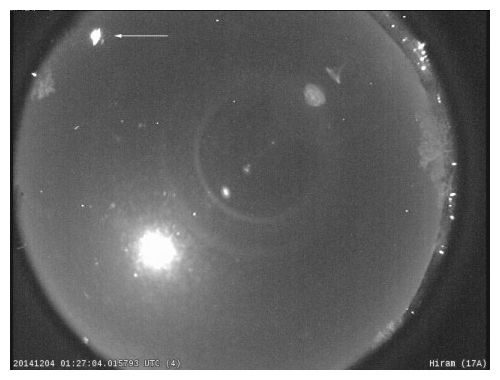 A
bright fireball lit up the Northeast sky on Wednesday night
as it streaked over southern Canada and upstate New York.
The fireball occurred at around 8:30 p.m. on Wednesday. The American Meteor Society estimates that the fireball began over Ontario County in northwest New York and traveled west-northwest over Canada before terminating southwest of Toronto.
"
Many witnesses described an increasing intensity before it terminated,
"
writes Mike Hankey
of the American Meteor Society, "a common trait of bolide meteors." A bolide is a particularly bright meteor that explodes in a flash near the end of it's path.
Nearly 200 sightings have been reported on the society's website, from Detroit to central Massachusetts and south into the Mid-Atlantic.
The fireball was seen as far south as the D.C. region, where many of our followers on Twitter were lucky enough to be outside for the event.
@capitalweather Nice fireball seen from Frederick 8:26 pm falling to the north from high northeast.

- John Cosby (@JohnDCosby) December 4, 2014
@capitalweather Streak was pretty short, skipped a bit, then made one last green flash.

- DaveS (@darsal) December 4, 2014
@JustinWeather @capitalweather Saw a fireball in the sky about 10 min ago in Jessup/Columbia.

- Adam Minakowski (@minakowski) December 4, 2014
@capitalweather saw it from purcellville, VA. Was very bright and light from the tail lasted an extra second or two

- Tim Markey (@vizbridge) December 4, 2014
If you saw the fireball and you haven't yet reported it, you can
do so here
!