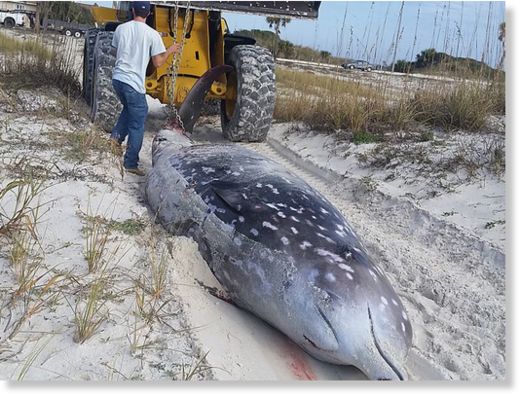 Beach visitors were caught off guard early Monday morning to find a deceased Beaked Whale on shore near Margaritaville Hotel on Pensacola Beach. The 20-foot whale beached Sunday night, said Cassity Bromley, chief of science and resource stewardship for the Gulf Islands National Seashore.
"The whale had washed up and was half buried right where the tide was coming in," said Josh Bell, a hotel employee. "They brought a bulldozer-type thing and a big tractor, dug it out, tied it up around the tail area, picked it up and took it across the beach." Bell said he works on the beach every day, and he has seen sharks and fish wash ashore but never anything like a whale.
Santa Rosa Island Authority used a backhoe loader to remove and transport the whale to the Emerald Coast Wildlife Refuge in Fort Walton Beach, which is part of the Marine Mammal Stranding Network. The whale will undergo a necropsy to verify its species and the cause of death.
Bell and co-worker Belinda Radford were among those on the beach who watched Santa Rosa Island Authority load the whale for transport.
Radford was concerned about how the whale died, but was confident a cause would be determined and steps taken if necessary to prevent future deaths.
"It was crazy," she said. "It was beached and half buried, but they were out there real quick."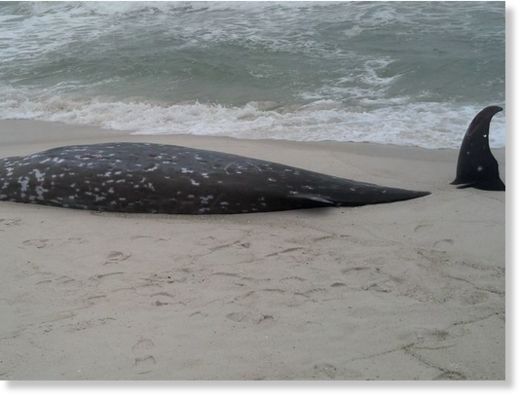 Update: 11:03 a.m.
Emerald Coast Wildlife Refuge has performed a necropsy on the beached Beaked Whale found Monday on Pensacola Beach.
According to Ed Cake, professor emeritus at Southern Mississippi University and a marine biologist with Gulf Islands National Seashore in Ocean Springs, Miss., a gross exam was performed first, consisting of an overall exam of the whale's exterior in which they looked for any injury or wounds.
Then they performed an internal exam of the body, looking for any disease or injury not showing on the outside. They determined the sex of the whale, took tissue samples and looked for parasites and any bone injuries.
The Emerald Coast Wildlife Refuge began the necropsy 3:30 p.m. Monday at their facility in Fort Walton Beach, according to Holly Young, an animal care technician at the refuge. The necropsy procedure was finished around 2:30 a.m. Tuesday. It is unknown when the results will be determined.