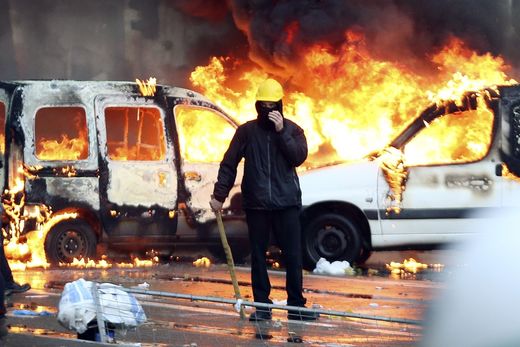 Belgian police used water cannons and tear gas on protesters on the fringes of
a march against austerity plans
set out by the country's new government, with dozens of riot police deployed Thursday near the capital's Midi Station, the main hub for international rail journeys.
Prime Minister Charles Michel and his cabinet were due to meet unions leading the protests in the late afternoon.
A right-leaning four-party coalition government took office earlier this month and announced plans to raise the pension age to 67 from 2030, as well as delaying the next wage increase under the country's system of wage indexation, which links salary increases to inflation.
The FGTB, one of Belgium's biggest trade unions, said
120,000 protesters took part in the march through Brussels
. "Employers have been handed a blank check by the government, without guaranteeing to create jobs," the FGTB said in a statement on its website. "The message is clear -
no to an antisocial, unbalanced and unfair government plan which will rob us
."
Sixty people were injured during the day's protests, of whom 24 were taken to hospital, Belgian Red Cross spokeswoman Nancy Ferroni said.
Former Prime Minister Elio Di Rupo, whose PS Francophone socialist party was part of the previous federal government, tweeted pictures of himself mingling with protesters. He said
the coalition is "making almost all the budget cuts on the backs of workers, the middle-classes, families and pensioners...Similar efforts aren't being required of the well-off
."
Brussels police tweeted that there were 100,000 protesters and that an underground rail station in the city center had been closed, along with numerous roads throughout the capital. Much of the city's public transport network was shut down for the day. The majority of the protesters were peaceful, with the disturbances near the Midi Station the only ones reported.
The march marks the start of a series of strikes planned throughout the country, culminating in a general nationwide strike on Dec. 15.