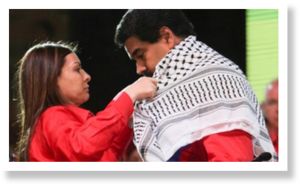 Venezuela will sent 10 tons of humanitarian aid and medical equipment for the war-torn Gaza Strip on Sunday, the Palestinian embassy in Caracas said in a statement.
A plane will carry the aid from Caracas to the Amman airport on Sunday, and the same plane will bring 100 Palestinian students who have been granted scholarships to study in Venezuela to the country, the statement said.
Last week, Venezuela's president
Nicolas Maduro said his country would grant 1,000 Palestinians scholarships for Venezuelan universities
.
Linda Subih, the ambassador of Palestine to Venezuela, said in the statement that she and 31 young Venezuelan men and women would accompany the aid to Amman, after which it would be sent to Gaza.