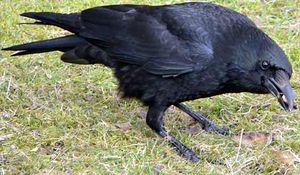 It's a sight that would send shivers down most people's spines -- dead birds plummeting from above for no apparent reason.
Nearly 50 crows and eagles were found dead
around Lal Bahadur Shastri Stadium in Bapunagar on Friday morning. When they first realised what had happened, residents in the areas were, understandably, left baffled by the necrotic avian rain. They said it was like something out of a horror film.
"
The birds would get up and try to fly, go out of control and crash again. It was just strange
," they said. Concerned residents called the forest department as well as the animal help organizations. However, forest officials refused to come claiming this was not under their jurisdiction, said residents. Manoj Bhavsar of Jeevdaya Charitable Trust, one of the organizations that reached the spot, said, "We received a call saying they spotted 7-8 dead birds in the area. Soon, we got a couple of other calls that more birds have been found dead or in a weak condition.
The area where the birds were found had huge piles of garbage. It was stinking. "When we reached the spot, we saw seven crows lying together in one spot. Two of the birds were alive so we took them to the laboratory for treatment. However, they died on the way so we took them to the bird's laboratory at polytechnic college for postmortem examination," he said. Animal experts are trying to figure out what may have killed these birds. Bhavsar would not speculate on what exactly may have killed the birds, but he suspects they may have accidentally eaten something poisonous. "The real reason will be known only after the post-mortem report is out," he said. Experts say the dead birds are not toxic but members of the public that encounters a dead bird should use gloves when picking it up and wash their hands thoroughly after handling and disposing of it.