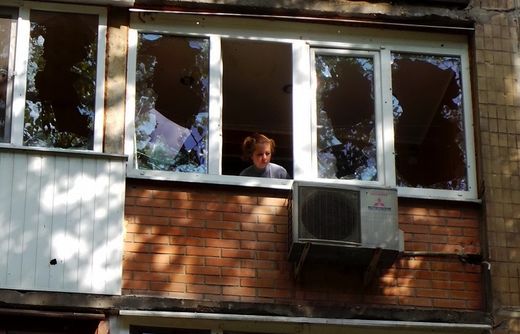 In the shelling in Donetsk four civilians were killed and eleven got injured, Donetsk local authorities reported on the website on Sunday.
"During the entire day on October 11, shelling of the Kuibyshev district continued," the report reads. "On October 11, in Donetsk were killed four civilians and eleven got injured."
As of early morning on Sunday, the situation "in the city is not quiet. Locals say sounds of firing from heavy weaponry are heard in many districts from time to time.
On October 11, Prime Minister of self-proclaimed Donetsk People's Republic (DPR) Alexander Zakharchenko said jointly with the Luhansk Republic they announced the so-called "silence regime."
On Tuesday evening, the Ukrainian National Security and Defence Council's information and analysis centre announced the so-called "silence regime" during which combat operations and shelling in the contact zone of Kiev's troops and south-eastern militias should be stopped.
In turn, the Defence Ministry of the DPR said it had not received any notifications from the Kiev authorities on the new cessation of fire. The ministry said "two people died and three were wounded as a result of shelling in Donetsk over the past day".
According to the United Nations, some 3,500 people have been killed and hundreds of thousands have fled Ukraine's war-torn southeast as a result of clashes between Ukrainian troops and local militias in the Donetsk and Luhansk regions during Kiev's military operation to regain control over the breakaway territories, which call themselves the Donetsk and Luhansk People's republics (DPR and LPR).
The parties to the Ukrainian conflict agreed on cessation of fire during talks mediated by the Organization for Security and Cooperation in Europe (OSCE) on September 5 in Belarusian capital Minsk. The ceasefire took effect the same day but reports said it has occasionally been violated.
Ukraine's parliament on September 16 granted a special self-rule status to certain districts in the Donetsk and Luhansk regions for three years.