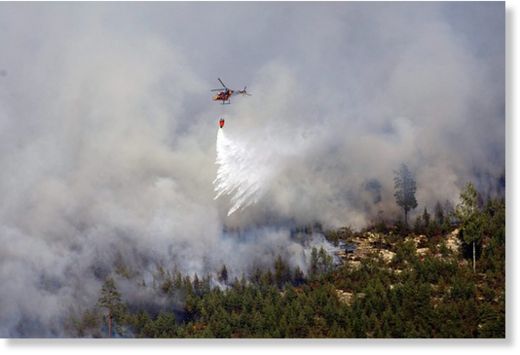 One man appears to have died in a massive forest fire raging in central Sweden, that has so far injured at least one person and prompted the evacuation of around a thousand people, authorities said on Tuesday.
The man in his 30s was found dead on a road north of Stabäck, Västmanland, an area affected by what is said to be
Sweden's largest fire in over 40 years, police said
. His body was badly burned and unidentifiable, but an identity card found on the body matched that of a man reported missing by relatives.
The fire was declared a national emergency on Monday night and currently engulfs an area of 15,000 hectares northwest of Sala, about 120 kilometers northwest of Stockholm.
Around 1,000 people have been evacuated from their homes, mostly in smaller isolated areas, and preparations have been made for a possible evacuation of Norberg, a town of some 4,500 people, according to information provided by the county of Västmanland.
Rescue officers on Monday saved nine volunteers encircled by the flames, and said they would no longer accept help from private individuals because of the risk, according to rescue authorities.
Another 42-year-old man encountered on a forest road in Stabäck on Monday was severely burned in the fire and brought to the hospital, police spokeswoman Johanna von Wowern said. Several properties have also been destroyed by the flames, according to authorities.
Hot, dry and slightly windy conditions have hampered the firefighting efforts, which have gone on since the fire began on Thursday.
"It's burning deep into the ground and across large areas. It's going to take months to extinguish," firefighter Chief Per Hultman was quoted saying in the
Expressen
newspaper.
On Tuesday, emergency services will receive help from two Italian planes specialized in fighting forest fires. The specialized planes have a much larger capacity to carry water than the planes currently being used, according to the county of Västmanland website.
Caroline Nonnen, who was evacuated along with her five children from Västervåla on Monday, said the sky turned black with dark heavy smoke and that police screamed at them to grab whatever they could and leave.
"It was chaos," she told Swedish Radio. "It felt like a war zone."
It remains unclear how the fire started.
Several regions in Northern Europe are currently facing heat waves, which pose forest-fire risks.
"Forest fires are a risk we tend to associate primarily with Southern Europe, but we are seeing that no country is immune," said Kristalina Georgieva, the European Union Commissioner for International Cooperation, Humanitarian Aid and Crisis Response said in a comment on the Swedish fire. "Let us hope that our biggest fear of the blaze spreading to urban areas will not materialize."