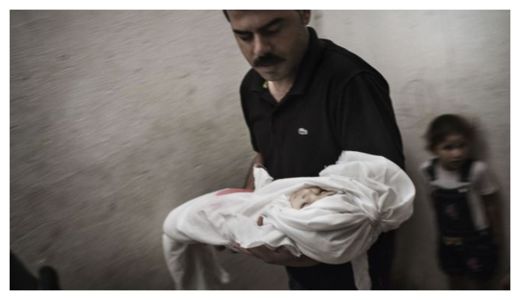 A political analyst says Israel's relentless onslaught against the Gaza Strip is aimed at ethnic cleansing of Palestinians, Press TV reports.
In an
interview
with Press TV on Saturday, Scott Rickard, a former American intelligence linguist, said the
Tel Aviv regime seeks to wipe the entire Palestine of its native inhabitants.
"This is genocide. This is ethnic cleansing of the indigenous people of Palestine," Rickard said, adding that Israel's crimes against Palestinians amount to "war crimes."
"They're basically trying to wipe out the entire Gaza infrastructure and reoccupy Gaza," the analyst added.
He also lashed out at the Egyptian government for helping the Israeli regime with its crimes against Palestinians by keeping the Rafah border crossing closed.
The Rafah border crossing is the only escape route from Gaza that does not lead into Israel. It can be used for the delivery of food and medical stuff to Gaza.
"It's horrific to see them (Egyptians) abusing their power of the border crossing and not allowing humanitarian aid to go in and help these defenseless individuals who are just being slaughtered on daily basis," Rickard said.
The death toll from 19 days of Israel's war on Gaza has surpassed 1,000 while more than 6,000 others have been injured.
According to the UN, over 80 percent of the Palestinian fatalities have been civilians, including more than 200 children.
Israel has also confirmed that 37 Israelis have been killed in the war but the Palestinian resistance movement Hamas puts the number at about 90.