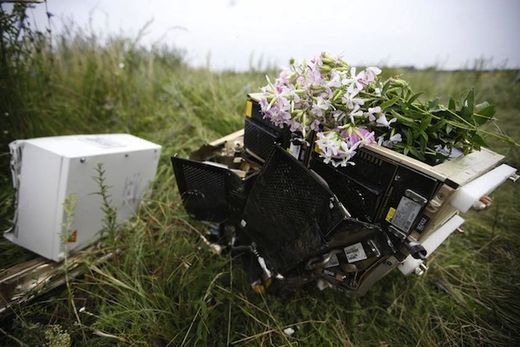 Malaysia Airlines (MAS) said tonight that
it was told to fly low over Ukrainian airspace by ground controllers
, putting it at
33,000 feet
, just skimming 1,000 feet above restricted altitude.
In a statement here, MAS explained that MH17 had initially filed a flight plan requesting to fly at 35,000 feet above Ukrainian territory, which it described as close to the "optimum altitude".
"However, an aircraft's altitude in flight is determined by air traffic control on the ground.
"Upon entering Ukrainian airspace,
MH17 was instructed by Ukrainian air traffic control to fly at 33,000 feet
," the national carrier said.
The decision by MH17's pilots to skim closely to the prohibited air zone - which is 32,000 feet, according to Europe's aviation authority Eurocontrol - has prompted numerous questions whether this may have contributed to what is believed to be a case of mistaken identity.
Authorities have yet to confirm what brought down the Amsterdam-Kuala Lumpur flight with 298 on board, but suspicion has fallen on the pro-Russian separatists who are believed to have fired an air-defence missile at the civilian airliner after mistaking it for a military transporter plane.
Questions have also emerged over the reason why MAS had chosen to fly over a war zone but the troubled carrier insisted tonight that MH17's flight plan was approved by Eurocontrol, the authority responsible for determining the flight paths of civilian aircraft over European airspace.
Earlier today, the same was confirmed by the European aviation authority.
"According to our information, the aircraft was flying at Flight Level 330 (approximately 10,000 metres/33,000 feet)
when it disappeared from the radar
.
"This route had been closed by the Ukrainian authorities from ground to flight level 320 but was open at the level at which the aircraft was flying," EuroControl said on its website.
The airspace is not under any restriction by any aviation and transport authorities beyond that declared by Ukraine, which is currently embroiled in a civil war.
MAS reiterated that
the route over Ukrainian airspace where the disaster occurred yesterday is commonly used for Europe and Asia flights
.
The national carrier pointed out that another flight from a different carrier was on the same route yesterday, at the same time of the MH17 incident.
"Eurocontrol maintains records of all flights across European airspace, including those across Ukraine," it pointed out.
To stress its point that it had not flown into restricted airspace, MAS noted that in April, after the International Civil Aviation Organisation (ICAO) identified an area over the Crimean peninsula as risky, the aircraft had "at no point" flown into or requested to fly into the area.
"At all times, MH17 was in airspace approved by the ICAO," MAS said.