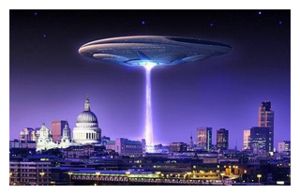 If all goes as planned, E.T. may soon be calling Puna home.
A UFO landing pad and star visitor sanctuary is set to be dedicated Friday on land accreted by the 1983 lava flow fronting Uncle Robert's Kawa Bar in Kalapana.
The 4 p.m. cleansing, purifying and dedication of an 80-foot diameter landing pad naturally formed by the lava on 500 new acres kicks off a three-day Native Hawaiian sustainability conference. The conference, which is being separately organized from the star visitor event, includes Hawaiian music and sessions on sustainability from a range of Hawaiian and non-Hawaiian speakers.
The Hawaii Star Visitor Sanctuary will be the second piece of land officially dedicated for the purpose of inviting extraterrestrial visitors to land and to promote peaceful relations with them, according to information provided by the Exopolitics Institute News Service.
The first landing pad was dedicated in 1967 in the city of St Paul in the Canadian province of Alberta, the news service said in a May 31 article.
"It's potentially controversial," acknowledged Garry Hoffeld, Big Island coordinator for the reinstated Kingdom of Hawaii and assistant to Hawaiian Nobel Robert Keliihoomalu, owner of Uncle Robert's. "It's potentially funny to some people, potentially stupid to some people."
"We're not crazy; we're open-minded," Hoffeld added.
The ceremony will include a traditional Hawaiian blessing, followed by the creation of an
ahu
, or Hawaiian marker, made by stacking stones and other items such as crystals that members of the public bring to the ceremony. A plaque designating the area will also be installed at the site, Hoffeld said.
The Star Visitor Sanctuary is being created with assistance from Michael Salla, an author and UFO commentator whose books include
Exopolitics: Political Implications of the Extraterrestrial Presence
.
Hoffeld said Keliihoomalu met Salla after Salla moved from West Hawaii to Kalapana, and the two hit it off.
"Uncle Robert calls (extraterrestrials) our space brothers and sisters," Hoffeld said.
Officials of the reinstated Hawaiian Kingdom signed a declaration May 28 noting that native legend has it that the constellation of Pleiades or Seven Sisters is the place from which the first Hawaiian people came to Earth. The declaration claims the new lava land for the kingdom and invites star visitors to land and establish diplomatic relations with the Hawaiian government.
The sustainability conference, known as Hoohana, for purposeful work, is a free event that follows the blessing ceremony. There will be two stages, food vendors, speakers and exhibits about sustainability from a Hawaiian perspective, said organizer Karen O'Brien.
Food vendors will be on-site, and families can also bring their own food throughout the event. The conference runs until 10 p.m. Friday, then from 10 a.m. to 10 p.m. June 28. There will be a sunrise ceremony at 5:15 a.m. June 29 on the lava field, followed by a 10 a.m. church service and awa ceremony and a 1:30 p.m. farmers panel. The event wraps up at 4 p.m.
In addition to agriculture, conference topics include energy, economics, healing, native plants and other sustainability issues from a Hawaiian perspective, O'Brien said. Presenters include Kumu Dane Kaohelani Silva of Hale Lomilomi o Kekaimalino, Graham Ellis of HSCA, HICCUP &SPACE, Kristine Kubat of Recycle Hawaii and Sen. Russell Ruderman, owner of Island Naturals Markets, she said.