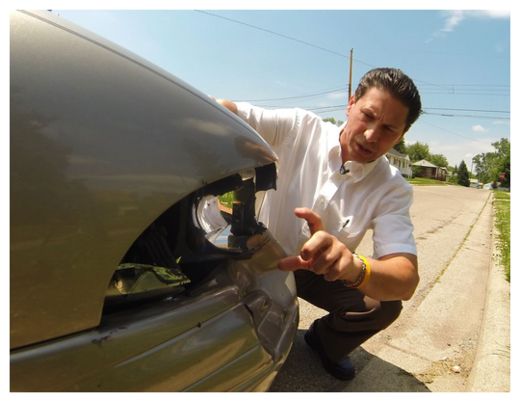 Dayton - A Kettering man believes a meteorite hit his car early Sunday morning. Joe Massa said he was driving home in the center lane on I-75 North when his Buick was struck by something around 2 a.m.
Out of the corner of his eye, he said, "I could see something. It was a light, shadow, a beam of light, small. Within a split second, something hit me, the front of the car was pushed over into the far left lane."
Massa said there was a big flash when it hit.
"It was like a silent pop," Massa said, "then there was pressure in the car. I could feel pressure in my ears, like the air had changed in the car, in a split second."
Massa, who manages restaurants in the Cincinnati area, said he pulled over immediately to see if he hit a deer, a dog, or something else. He found nothing, except the damages to the right-front bumper.
Massa said he got off at the Tylersville Road exit and went to a gas station where he met with a West Chester police officer and a trooper with the Ohio Highway Patrol.
We continue to work to verify Massa's story with those agencies.
The dent in the bumper seems to show a downward motion, as if something fell from the sky and struck it.
"What are the chances of this happening?" said Massa, "The West Chester police officer told me it's 1 in 275 million!"
Massa said he was unaware of the meteor shower that was expected over the weekend as the tail of a comet, discovered in 2004, entered the earth's atmosphere.
News Center 7's Rich Wirdzek said incidents like this happen occasionally. He said it's possible for a meteorite to make it through the atmosphere and crash onto the earth, or in this case a Buick.