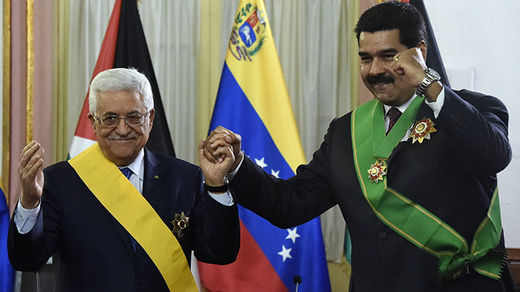 Palestinian President Mahmoud Abbas and his Venezuelan counterpart, Nicholas Maduro, have struck a deal which will see 240,000 barrels of oil and diesel sent to the Palestinian Authority by state-owned company Petróleos de Venezuela.
During his three-day visit to the oil rich South American nation, which sits on the world's largest oil reserves, Abbas thanked Maduro for his support.
"Thank you Venezuela for helping to break the monopoly that Israel has over our economy. Thank you Venezuela for responding to our needs. Thank you Venezuela for being available to continue to lend the Palestinian people more support in their fight,"
said Abbas.
Maduro reiterated his support for Palestine and its desire to be a fully independent state.
"We welcome the Palestinian people and the Arabs. Our people support your right to a land of prosperity. Today, Petro Palestine has been born,"
Maduro said.
Maduro also agreed to support the Palestinian Authority's request to be granted observer status in three Latin American organizations: the Union of South American Nations (UNASUR), the Bolivarian Alliance for the Peoples of Our America (ALBA), and the Community of Latin American and Caribbean States (CELAC).
The leaders also announced a number of bilateral projects between the two nations, including the possibility of Palestinian medical students studying at Venezuelan universities.
While in Caracas, Abbas also visited the grave of Hugo Chavez, Maduro's predecessor who died of cancer last year.
The deal comes as Tel Aviv barred Palestinian banks from making shekel deposits in Israel and limited electricity supply to the Palestinian Authority to half strength for an hour a day. The Israelis are also withholding US$116 million of Palestinian tax revenue.
The punitive measures were in response to the reconciliation agreement between the Palestinian Fatah party, which rules the Palestinian Authority, and Hamas, the militant group which controls Gaza, according to Haaretz. The Israeli Electric Company pointed to a debt of $154 million which is owed by the Palestinian Jerusalem District Electricity Company as the reason behind the punitive measure.
Abbas arrived in Caracas, the Venezuelan capital, on Thursday after a meeting with US Secretary of State John Kerry the day before - the first since peace talks between the Palestinians and Israelis collapsed in April.
Although US-brokered peace negotiations broke down last month, reports emerged Saturday that Israeli Justice Minister Tzipi Livni, Israel's main negotiator during the nine months of talks, met secretly in London last week with President Abbas.
Israeli Prime Minister Benjamin Netanyahu, known for his hardline views on Palestinian relations, distanced himself from the meeting on Saturday, saying that Livni was
"representing only herself and not the Israeli government."