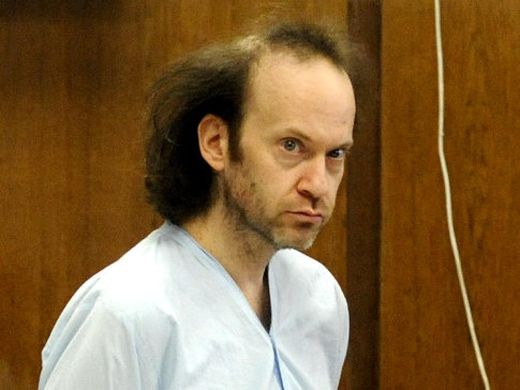 A jury in New York rejected the insanity defense of a schizophrenic man who claimed God told him to kill a psychologist during a botched robbery.
Jurors found David Tarloff
guilty of first-degree murder
Friday in the brutal 2008 slaying of Kathryn Faughey and also convicted him of assault and attempted robbery in maiming of Dr. Kent Shinbach, a psychiatrist who shared an office with her.
The 47-year-old Tarloff had been tried twice previously for the attacks, reported the
New York Times
, but the first trial stalled in 2010 after the defendant became unstable during jury selection, and a mistrial was declared last year after another jury deadlocked.
Jurors were tasked with deciding whether Tarloff was under a psychotic delusion when he killed Faughey with a meat cleaver and rubber mallet and therefore was unable to distinguish between right and wrong.
Defense attorneys argued that Tarloff had a long history of delusions about communicating directly with God, and he told doctors that his plan to rob Shinbach had been ordered by the Almighty.
Tarloff then planned to take $50,000 in stolen money, kidnap his mother from a hospital, and take her to Hawaii, but jurors said they believed he knew his plans and his actions were wrong.
"He's sick, but I feel like he knew what he was doing," said one juror, Dana Torres, a 27-year-old construction worker. "For me, if he had said Satan told him to do this, it would have been a different story."
Another juror, 27-year-old Emma Pulitzer, said the standards for insanity pleas were too narrow, adding that Tarloff should be in a mental hospital instead of a prison.
"I felt like there needed to be one more box," she said. "The box for the obviously crazy people who know right and wrong."
Jurors said a videotaped confession shown by prosecutors helped lead to Tarloff's conviction because he seemed lucid and apologetic.
"His mannerisms, his way of speaking - he knew what was going on," said Kevin Berry, a 48-year-old flight attendant. "I believe he's sick to a certain degree, but not sick enough to not know right from wrong."
Tarloff faces a maximum life term in prison without parole when he is sentenced May 2, but his attorneys said they would appeal the conviction.
If the insanity defense had been successful, Tarloff could have been ordered held indefinitely at a psychiatric hospital.
Watch the videotaped confession: