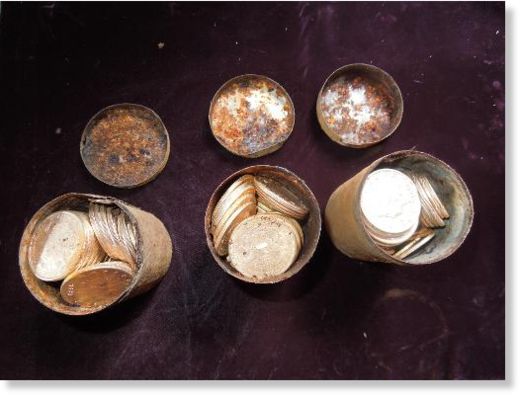 The currency firm representing a California couple who found $10 million worth of rare Gold Rush-era coins buried on their property says no valid claim to the collection has emerged, despite rumors that the stash was swiped in a 1901 heist.
A sale of the treasure trove, which includes 1,400 gold pieces in nearly mint condition, will proceed as planned, said coin expert David McCarthy of currency firm Kagin's.
"To my knowledge, no legitimate claims have surfaced, and I don't think that any will," McCarthy told Reuters.
Theories about the history of the Saddle Ridge Hoard, named by the owners after an area of land where they unearthed the coins in April, have emerged since the discovery was made public last week.
The coins were discovered buried in eight decaying metal cans on the couple's property in California's so-called Gold Country.
A Northern California coin collector and self-described historian had floated a theory that the coins were robbed from the San Francisco U.S. Mint in 1901.
"We do not have any information linking the Saddle Ridge Hoard coins to any thefts at any United States Mint facility," U.S. Mint spokesman Andy Stump said on Wednesday.
McCarthy said it would have been extremely odd for a mix of gold pieces, dating to the mid-to-late-1800s, to have been stored at the U.S. Mint, a coin manufacturer.
"It's such a far-fetched theory that in order to take it seriously you have to be ignorant about how the U.S. Mint would have operated," he said. "How many factories do you know that keep inventory ... 40, 50, 60 years old?"
Kagin's has plans to sell the coins on online retailer Amazon.com for the couple and to display some of the pieces at the American Numismatic Association show in Atlanta later this month.
The couple, who Kagin's has identified only as Mary and John, said in a statement that they would give some of their earnings from the coins to charity and family. They also plan to keep a sampling of their find.