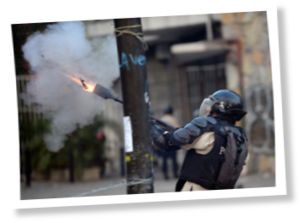 Panama City - The Venezuelan government ordered Panama's ambassador and three other diplomats at the mission to leave the country within 48 hours, a Panamanian official said Thursday, a day after Caracas broke ties with Panama City.
"We received a note from the foreign ministry of Venezuela that was delivered to our embassy in which it declared four diplomats working in our embassy as 'persona non grata,'" Panama's Deputy Foreign Minister Mayra Arosemena told reporters.

Comment: That's Diplospeak for: "Hit the road, Jack".


The diplomats are Ambassador Pedro Pereira, charge d'affaires Jaime Serrano and two other embassy officials.
"We have recalled our staff today and they are traveling (to Panama) tomorrow," Arosemena said.
Venezuelan President Nicolas Maduro announced Wednesday he was breaking diplomatic ties with Panama after the country called a meeting of North and Latin American nations over weeks of sometimes violent protests in Caracas.
Maduro also said he was freezing all trade and economic ties with the Central American nation.
"Nobody will conspire with impunity to ask for an intervention against our fatherland. Enough!" Maduro said after Panama requested a private meeting of the Washington-based Organization of American States to be held to seek solutions to resolve tensions in Venezuela.

Comment: The Gall. Imagine if Norway decided to consult with China about resolving the L.A. Riots.


At least 20 people have died in anti-government protests in Venezuela since they first erupted on February 4. Nearly 300 were injured and there are also dozens of allegations of human rights violations.
Arosemena said that despite Venezuela's measures against the diplomats, Panama "has every intention of maintaining the best relations with Venezuela."
Source: Agence France-Presse