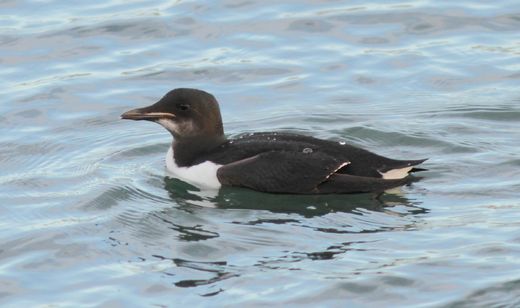 Bird lovers are flocking to Portland after a rare Arctic visitor was spotted in the harbour.
Hundreds of people from all over the country headed to Portland Marina to get a glimpse of a Brunnich's Guillemot (or Thick-billed Murre )
which is usually found in colder, northern climates including Russia and Norway.
Crowds of enthusiasts are still there today trying to photograph the bird.
Debby Saunders, of Portland, first saw the vagrant, which is believed to have been blown off course in the recent bad weather, on Boxing Day.
She said: "It is really exciting. It is the first time this species has been seen this far south in the UK."
Debby was bird watching with her husband Pete when she saw the Brunnich's in the distance.
She added: "It was too far away to see what it was, but I took a picture and when we looked at it later in the car, Pete managed to identify it."
The main identification points are the horizontal white line on the bill and the dark face.
She posted the news and picture on Twitter and bird enthusiasts from across the country began travelling to Portland to see it for themselves.
Debby said: "There's a lot of interesting visitors here at the moment, as a black guillemot has been hanging around since before Christmas.
"There's no clue as to how long they will stick around for, it could be a day or a month."
She added: "I wasn't surprised by how much interest the news got. This will be a first sighting for most birders in the UK.
"It's really special."
Steph and Paul Hicking drove from Belper, Derbyshire, to tick the bird off their list.
Steph said: "We've been to Portland a few times, but this one is really exciting. We were talking to someone who had come all the way from Teeside."
Gary Briddick, from the West Midlands, set out at 2am to see the bird at dawn.
He said: "It's the first time I've ever heard of seeing one that's so accessible."
Brunnich's Guillemots, also known as the thick-billed Murre, migrate south in the winter to avoid ice freezing the waters, but usually remain in the northernmost parts of the Atlantic and Pacific.
According to experts a handful of birds have been spotted off the far north coast of Scotland,
but it is extremely rare for them to appear so far south.
Alan Tilmouth, of birdguides.com, said there have been 43 accepted recorded sightings of the bird to date in the UK.
He said: "There was one off Filey, north Yorkshire, earlier in December, and this may well be the same bird.
"But there were no sightings in England before that since 1977, when one was spotted off the Farn Isles.
"It really is a once-in-a-generation thing."