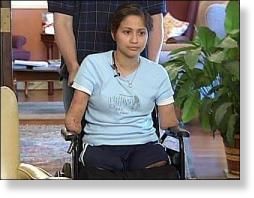 A new mother says she will literally never be able to hold her newborn baby after the Orlando hospital where she gave birth performed a life-altering surgery that left her a multiple amputee.
"They amputated both her arms and legs and will not explain why..."
At this time the woman claims that the hospital will not tell her why they removed both of her arms and legs during childbirth. Complaints have been filed against the hospital, Orlando Regional Healthcare Systems, because it allegedly said it would not tell her exactly what happened. The hospital maintains the woman wants to know information that would violate other patients' rights.
The event happened over 8 months ago. Claudia Mejia, the mother of the newborn child and victim of the surgery, was transported to Orlando Regional Medical Center in Orlando where her arms and legs were amputated. After the surgeries she was told she had streptococcus, a flesh eating bacteria, and toxic shock syndrome, but no further explanation was given.
The hospital claims that if she wants to find out exactly what happened, she would have to sue them.
"I want to know what happened. I went to deliver my baby and I came out like this," Mejia told the media. "I woke up from surgery and I had no arms and no legs. No one told me anything. My arms and legs were just gone."
Her husband Tim Edwards, a devoted man, said he's sticking with her.
"I love her, so I'll always stick with her and take it a day at a time myself."
Her attorney, Judy Hyman, wrote the hospital a letter saying, according to the Florida statute, "The Patients Right To Know About Adverse Medical Incidents Act," the hospital must give her the records.
The hospital's response? "Ms. Mejia's request may require legal resolution."
It is being considered that Mrs. Mejia caught the skin eating disease streptococcus while in the hospital, contracting it from another patient or someone on her floor who already had the disease.