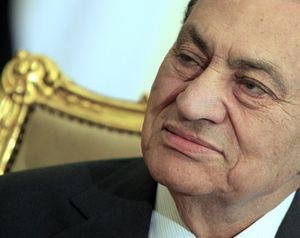 Jailed ex-Egyptian President Hosni Mubarak could be released later this week, judicial officials said Monday, a move that would fuel the unrest roiling the country after the autocratic leader's successor was removed in a military coup.
Underscoring the growing anger over Mohammed Morsi's ouster, suspected Islamic militants ambushed two minibuses carrying off-duty policemen in Egypt's Sinai Peninsula, forcing the men to lie on the sand and shooting 25 of them dead.
The brazen daylight attack raised fears that the strategic desert region bordering Israel and the Gaza Strip could be plunged into insurgency.
The 25 were given a funeral with full military honors after a plane brought their bodies to an air base in eastern Cairo. Interior Minister Mohammed Ibrahim, who is in charge of the police, and the army's Chief of Staff, Gen. Sobhi Saleh, led the funeral.
The coffins of the victims were draped in red, white and black Egyptian flags and, in a show of solidarity, were jointly carried in the funeral procession by army soldiers and policemen. Earlier, relatives and friends wept over the coffins.
Despite the violence, Cairo, a bustling metropolis of some 18 million people, began to restore a sense of normalcy although the capital remained under a state of emergency and a dusk-to-dawn curfew.
Daytime traffic was back to its normal congested levels and stores were open. Government employees also returned to work. And the Central Bank ordered banks to extend by one hour their curtailed opening hours effective Tuesday.
During his decades ruling Egypt, Mubarak frequently warned that Egypt would fall into chaos without him at the helm.
The 85-year-old former president has been in detention since April 2011, weeks after he was ousted in a revolution against his rule.
He was found guilty and sentenced to life in prison in June last year for his failure to stop the killing of some 900 protesters in the 18-day uprising. His sentence was overturned on appeal and he is now being retried, along with his security chief and six top police commanders.
Two judicial officials, however, said there will no longer be any grounds to hold the 85-year-old former president if a court accepts a petition by his lawyer requesting his release in a corruption case later this week.
Many analysts, however, expressed skepticism, saying the political cost of letting the former leader who was widely hated for widespread abuses and repression during his 29 years in power could keep him in jail.
The judiciary officials, who spoke on condition of anonymity because they were not authorized to talk to the media, said a criminal court on Monday ordered Mubarak's release in a corruption case in which he and his two sons were accused of embezzling funds for the maintenance of presidential palaces. His sons will remain in custody, the court said without giving reasons.
Monday's order, along with the fact that Mubarak had previously been ordered released in two other cases against him - the killing of the protesters and a case related to illegal earnings - opened the possibility of freedom for the former president.
Mubarak is also facing trial for alleged acceptance of presents from state newspapers but has already repaid their value. His defense team has submitted a petition for his release in connection with the presents and a ruling is expected later this week.
While he still faces trial, Mubarak secured a ruling to be released from custody in the case of the killing of protesters because he could not be held for more than two years pending a final verdict, the officials said.
However, his release during one of the worst bouts of turmoil since his ouster could be a huge risk for the military-backed government and authorities will likely decide to keep him in custody.
Tensions in Egypt have soared since the army ousted Morsi, who was Egypt's first freely elected president, in a July 3 coup following days of protests by millions of Egyptians demanding the Islamist president step down and accusing him of abusing his powers.
On Wednesday, the military raided two protest camps of Morsi's supporters in Cairo, killing hundreds of people and triggering the current wave of violence.
Human Rights Watch, in a report released on Monday, accused Egyptian security forces of using excessive force when they moved on Wednesday to clear the larger of two sit-in protest camps. The New York-based group said the assault amounted to the "most serious incident of mass unlawful killings in modern Egyptian history."
HRW put the death toll from that sit-in camp, in an eastern Cairo district, at 377, and called on authorities to reverse a recent decision authorizing the use of deadly force by security forces when they come under attack or when key government facilities are assaulted.
In all, nearly 1,000 people were killed in the crackdown and the clashes that erupted between Morsi's supporters and security forces.
Morsi's supporters have fought back, staging demonstrations demanding that he be reinstated and denouncing the military coup.
The Sinai Peninsula has long suffered from violence such as kidnappings by Bedoins demanding the release from prison of relatives.
Al-Qaida-linked fighters, some who consider Morsi's Muslim Brotherhood to be too moderate, and tribesmen have used the area for smuggling and other criminal activity for years and have occasionally fired rockets into Israel and staged cross-border attacks. A year ago, 16 Egyptian border guards were slain in Sinai near the borders with Gaza and Israel in a yet unresolved attack that is widely blamed on militants.
But Islamic militancy in the area has been on the rise with almost daily attacks targeting security forces since Morsi's ouster.
Monday's killings took place near the border town of Rafah in northern Sinai. A few hours later, militants shot to death a senior police officer as he stood guard outside a bank in el-Arish, another city in the largely lawless area, three security officials said.
There was no immediate claim of responsibility for either attack.
The security officials initially said the 25 policemen were killed in a rocket-propelled grenade attack against the buses but later said further investigation showed that they were shot to death. The policemen were off-duty and not in uniform, the officials said.
The attacks came a day after security forces killed 36 detainees during a riot on a prison-bound truck convoy north of Cairo. The killings came as police fired tear gas to free a guard who was trapped in the melee, security officials said.
On Monday, the government ordered an inquiry into the deaths, which it blamed on armed men allegedly trying to help the 600 Muslim Brotherhood detainees escape. It gave no details.
The Brotherhood blamed military chief, Gen. Abdel-Fattah el-Sissi, and the interior minister for Sunday's killings. The group also called for an international inquiry into the deaths.
"There are mass killings to a special a group of people (the brotherhood) with a special political ideology, with a real political legitimacy and a strong connection with the will of people," Ahmed Abu Baraka, a Brotherhood lawyer, told a news conference on Monday.
Amnesty International demanded a "full, impartial and effective" probe into the events, the London-based group said in a statement.
In all, nearly 1,000 people have been killed in violence between security forces and Morsi's supporters since last Wednesday.
The Interior Ministry also said 102 policemen and other employees have been killed in the violence.
Morsi has been held in an undisclosed location since July 3. He is facing allegations that he conspired with the Palestinian militant Hamas group to escape from prison in 2011. On Monday, prosecutors ordered his detention for 15 days in connection with allegations that he conspired to kill and torture protesters during mass demonstrations by the opposition outside his presidential palace in December 2012.