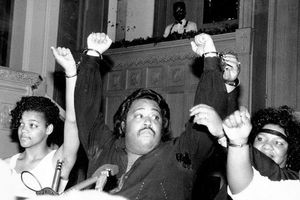 A defiant Tawana Brawley broke a decade of silence last night and declared, "I am not a liar."
The 25-year-old woman, whose claims of being kidnapped and raped by six white men in 1987 were later deemed a hoax by a grand jury, did not waver from her original story. "If I did that, it would be like saying it didn't happen. And it did," Brawley said. "For 10 years, they've been lying to you. . . . You should know that the hoax was pulled on you."
The audience packed into Bethany Baptist Church in Bedford-Stuyvesant, Brooklyn, reacted with thunderous applause. Former Dutchess County Assistant District Attorney Steven Pagones, who's now suing Brawley's three former advisers for defamation, had a different response. "She stood there for 10 or 15 minutes and said a lot about nothing," said Pagones when reached at his Fishkill home. "She didn't give any facts."
Brawley never mentioned Pagones specifically last night, but she referred to his offer earlier in the day to drop the judgment against her if she would tell her story under oath in the suit against her advisers. Pagones won a default judgment against Brawley in 1991 after she failed to answer repeated subpoenas. "A hundred-seventy million dollars, I think, and they would drop the suit against me. . . . They offered to drop the lawsuit against me if I spoke out against Alton," Brawley said, gesturing to disbarred attorney Alton Maddox. "That would never happen. There is not enough money on this planet."
Brawley, who now lives in Maryland near Washington, D.C., made her first public speech on the case at the same church where she had holed up for weeks a decade ago, refusing to talk to cops or a grand jury. Last night she voiced support for her embattled former advisers Maddox, disbarred attorney C. Vernon Mason and the Rev. Al Sharpton. Brawley was an awkward 15-year-old when she came forward with her shocking allegations. Her case leaped into the headlines after she was found Nov. 28 1997, outside a Wappingers Falls apartment in a plastic garbage bag, smeared with feces and with "KKK" and "nigger" scrawled on her. The woman who appeared at the church last night was poised in a brown suit and was articulate and carefully coiffed. She was visibly moved by the supportive audience that punctuated her 20-minute speech with cries of, "We believe you, Tawana!"
"Thank you for believing me," Brawley replied. "I'm so overwhelmed. I didn't know how many people would be here.
Then Brawley vented her fury at the "white press," saying, "Everybody should know that for 10 years they've been lying to you."
Many in the audience hissed at the dozens of reporters covering the speech. "They write that I am a liar," she said. "So why are they here? ... They know something happened, and they know who did it.
Maddox and Sharpton were at the rally and said they were happy for her show of support. "We still believe in her," Maddox said after Brawley departed, surrounded by bodyguards. "The story of Tawana Brawley is the story of African women in America."
Sharpton said he spoke with Brawley before she left, but declined to say they discussed. "We just had a long talk," he said. "I haven't seen her in many years.
Sharpton then vowed last night's show of support was "just the beginning."
"This is going to be a landmark case on advocacy," he said. "What's on trial is the people's right to know."
Mason wasn't seen at the rally and couldn't be reached for comment. Many in the audience said they were convinced Brawley was telling the truth. "As a lawyer, my intuition responded to that sincerity," said Harry Scott Jr. of Bedford-Stuyvesant. Maddox, Mason and Sharpton are being sued by Pagones, 36, who says they falsely accused him of being one of Brawley's attackers. Pagones is seeking $150 million in damages. "I'm a little upset about what happened tonight," Pagones said of the speech, "but I still think we can get to the bottom of this once we get Mason, Maddox and Sharpton on the stand."
Pagones' father, Anthony, an attorney who is representing his son, said the family still wants Brawley to testify in court. "We welcome her to say those statements under oath," he said. Earlier yesterday, one of Pagones' attorneys said his client would forfeit the defamation judgment against Brawley if she would take the stand. "She doesn't have to worry about any kind of money damages if she comes back and testifies," the lawyer, William Stanton, said. "We want this woman on the stand. She has never told her story, except through the three defendants."
But lawyers for the defendants said that if Brawley testified, it would help them and not Pagones. "If she does, she will say something that Steven Pagones does not want to hear," said Mason's lawyer, Stephen Jackson. The unusual offer came on a day devoted to settling last-minute details before opening arguments in the civil trial. Lawyers examined video tapes of TV interviews Pagones intends to use to prove his case. Lawyers representing former Gov. Mario Cuomo and former State Attorney General Robert Abrams were to argue in court against subpoenas seeking their testimony about their involvement in the 1988 grand jury investigation. AT-A-GLANCE GRAND JURY Here are excerpts from the 170-page Oct. 6, 1988, report of the grand jury that investigated Tawana Brawley's allegations that she was raped by six white men: "To the knowledge of the grand jury, Tawana Brawley never provided a detailed account of her allegations, a detailed description of her alleged attackers or named her assailants to anyone."
"There was no medical or forensic evidence that a sexual assault was committed on Tawana Brawley. If a 15-year-old girl had been forcibly raped or sodomized by multiple assailants over a four-day period, there is a high probability that medical or forensic evidence would have been found."
"There is nothing in regard to Tawana Brawley's appearance on November 28 [1987] that is inconsistent with this condition having been self-inflicted."
"There is no evidence that a coverup occurred or was attempted in this case. The actions of the law-enforcement agencies and officials involved were inconsistent with any attempt at a coverup."
"The testimony . . . and evidence . . . established Mr. Pagones' whereabouts for virtually every hour of the period between . . . November 24, 1987, and . . . November 28, 1987. Steven Pagones had no connection with any incident involving Tawana Brawley during those four days."