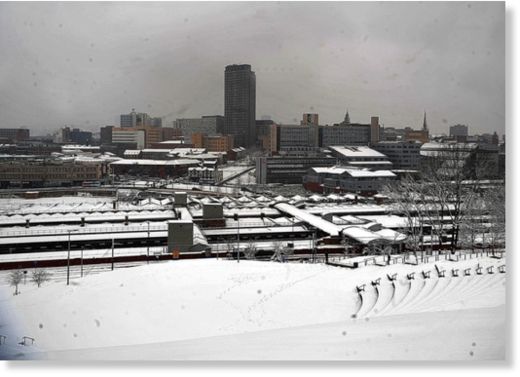 March was the coldest in Sheffield for more than a century, new statistics have revealed.
City residents are still shivering, gritting their paths and de-icing the car each morning despite the supposed start of spring.
Now data compiled by the Museums Sheffield Weather Station at Weston Park shows we've had a right to grumble.
This month has in fact had the lowest monthly average March temperature since 1883 - and the second coldest average March temperature ever recorded.
The average temperature was a chilly 2.4C.
On the coldest day this month a minimum temperature of -4C was recorded.
This means 2013 has had the 31st coldest March minimum on record.
The maximum temperature recorded was only 9.3C, giving 2013 the lowest March maximum temperature since March 1996 and the second lowest monthly March maximum on record.
Piles of the white stuff also meant the city has also had the deepest March snow - with 21 centimetres falling - in over 30 years and the fourth deepest ever since regular recordings for this statistic began in the 1940s.
According to the weather station's records, over the last 50 years it has also snowed in March more often than it hasn't, about 60 per cent of the time.
The weather station has agreed to share its monthly data reports with Star readers each month.
Watch out for the next report in April.