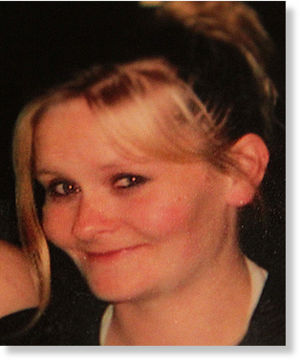 Drinking too much Coke helped kill mother of eight Natasha Harris, the coroner has found.
Harris drank up to 10 litres of Coke every day - equal to more than twice the recommended safe daily limit of caffeine and almost one kilogram of sugar.
She died aged 30, on February 25, 2010, from a cardiac arrest. Her partner, Christopher Hodgkinson, found her seated on the toilet, slumped against the wall and gasping for air.
Coca-Cola has argued that the huge quantities of Coke drunk daily by Harris day could not be proven to have contributed to her death.
But in findings released today, coroner David Crerar said Harris would not have died if it wasn't for her dependence on Coke.
"I find that, when all of the available evidence is considered, were it not for the consumption of very large quantities of Coke by Natasha Harris, it is unlikely that she would have died when she died and how she died.''
In the months leading up to her death her health had deteriorated, Hodgkinson said.
''She had no energy and was feeling sick all the time ... She would get up and vomit in the morning.''
He said her Coke habit had become an addiction: ''She would get moody and get headaches if she didn't have any Coke and also feel low in energy.''
In a statement today, Coca Cola said: "The Coroner acknowledged that he could not be certain what caused Ms Harris' heart attack. Therefore we are disappointed that the Coroner has chosen to focus on the combination of Ms Harris' excessive consumption of Coca-Cola, together with other health and lifestyle factors, as the probable cause of her death. This is contrary to the evidence that showed the experts could not agree on the most likely cause".
Hodgkinson's mother Vivian had said Harris got ''withdrawal symptoms'' if her Coke ran out, including getting ''the shakes'' and becoming angry.
The family did not consider Coke was harmful because its labels do not contain warning signs.
The coronial decision revealed Harris likely suffered from a myriad of medical conditions, including a racing heart and ''absent teeth'', which her family say had rotted out from Coke consumption.
They contend, also, that the amount of Coke Harris drank ruined her children's teeth, with at least one of her kids being born without enamel on their teeth.
Harris drank up to 10 litres per day, the coroner estimated - which works out to more than twice the recommended daily caffeine consumption and more than 11 times the recommended sugar intake.