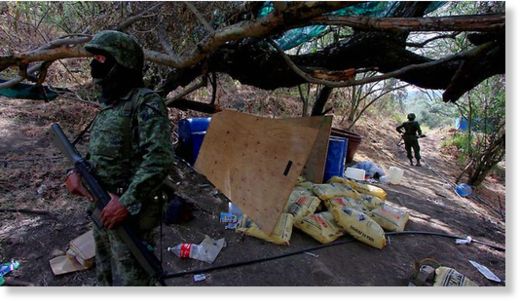 At least eight bodies were found in a well in northern Mexico on Sunday near the site where 20 people went missing late last week, including members of a Colombian-style band, according to a state forensic official.
Gov. Rodrigo Medina told a local television station that four of the bodies had been pulled from the well, and said it could hold as many as 10 cadavers.
Mr Medina said experts were still working to identify the corpses, but noted "we have evidence that indicates that (the bodies) may very well be the members of this band."
The Nuevo Leon State Investigative Agency was still working at the well in a vacant lot in the town of Mina near the northern Mexican city of Monterrey, and the body count could rise, the forensic official said. He spoke on condition of anonymity because he was not authorized to discuss the case.
he official could not confirm whether the bodies belonged to 16 members of the band Kombo Kolombia and their crew, who were reported missing early Friday after playing a private show in a bar late Thursday in the neighboring town of Hidalgo north of Monterrey.
Authorities had been searching for two days when they came upon the well on Sunday afternoon.
People living near the bar in Hidalgo reported hearing gunshots at about 4am Friday, followed by the sound of vehicles speeding away, said another source with the state agency. He also spoke on condition of anonymity because he was not authorized to be quoted by the news media.
The officials added that gunfire is common in the area and said investigators found spent bullets nearby.
Relatives filed an official report about their missing loved ones on Friday, after losing mobile phone contact with them following the Thursday night performance. When family members went to the bar to investigate, they found the band members' vehicles still parked outside.
For three years, Kombo Kolombia has played a Colombian style of music known as vallenato, which is popular in Nuevo Leon state. Most of the group's musicians were from the area, and have held large concerts in addition to bar performances.
Nuevo Leon state officials said one of those missing is a Colombian citizen with Mexican residency.
Members of other musical bands, usually groups that perform "narcocorridos" celebrating the exploits of drug traffickers, have been killed in Mexico in recent years. But Kombo Kolombia did not play that type of music, and its lyrics did not deal with violence or drug trafficking.
Source: Associated Press