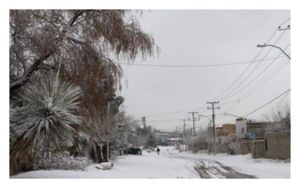 The Mexican government declared a emergency in 21 municipalities in the northern state of Chihuahua due to heavy snow and a cold wave blamed for six deaths there.
Federal officials said that the measure, which was requested by the Chihuahua government, will allow authorities to access resources within the national emergency fund to cover food, clothing and health care needs among the affected population. Salvador Echavarria Campos, a meteorologist with Chihuahua's UEPC civil defense agency, said that the lowest temperature registered Thursday morning was minus 11 C (12 F) in the municipality of Bocoyna, in the state's mountainous region.
On Tuesday, UEPC director Luis Lujan Peña confirmed that the snow had cut off some 150 communities in the Sierra Tarahumara mountains. So far, official figures are that six people have died in Chihuahua and two others in the western state of Michoacan from causes linked to the low temperatures.