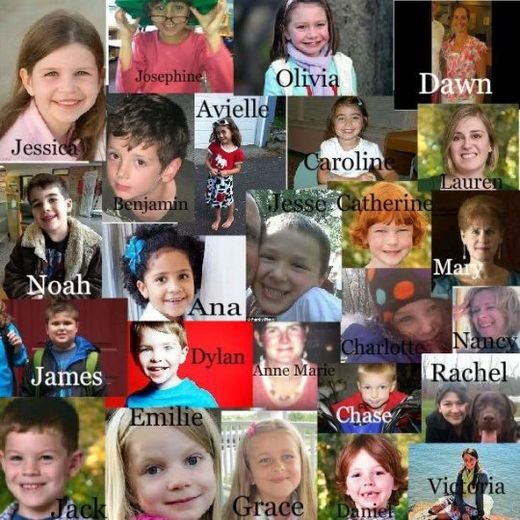 "[My staff] and I hope the people of Newtown don't have it crash on their head later." - Connecticut Medical Examiner D. Wayne Carver II, MD, December 15, 2012
Inconsistencies and anomalies abound when one turns an analytical eye to news of the Newtown school massacre. The public's general acceptance of the event's validity and faith in its resolution suggests a deepened credulousness borne from a world where almost all news and information is electronically mediated and controlled. The condition is reinforced through the corporate media's unwillingness to push hard questions vis-à-vis Connecticut and federal authorities who together bottlenecked information while invoking prior restraint through threats of prosecutorial action against journalists and the broader citizenry seeking to interpret the event on social media.
Along these lines on December 19 the Connecticut State Police assigned individual personnel to each of the 26 families who lost a loved one at Sandy Hook Elementary. "The families have requested no press interviews," State Police assert on their behalf, "and we are asking that this request be honored.[1] The de facto gag order will be in effect until the investigation concludes - now forecast to be "several months away" even though lone gunman Adam Lanza has been confirmed as the sole culprit.[2]
With the exception of an unusual and apparently contrived appearance by Emilie Parker's alleged father, victims' family members have been almost wholly absent from public scrutiny.[3] What can be gleaned from this and similar coverage raises many more questions and glaring inconsistencies than answers. While it sounds like an outrageous claim, one is left to inquire whether the Sandy Hook shooting ever took place - at least in the way law enforcement authorities and the nation's news media have described.
The Accidental Medical Examiner
An especially important yet greatly underreported feature of the Sandy Hook affair is the wholly bizarre performance of Connecticut's top medical examiner H. Wayne Carver II at a December 15 press conference. Carver's unusual remarks and behavior warrant close consideration because in light of his professional notoriety they appear remarkably amateurish and out of character.
H. Wayne Carver II has an extremely self-assured, almost swaggering presence in Connecticut state administration. In early 2012 Carver threatened to vacate his position because of state budget cuts and streamlining measures that threatened his professional autonomy over the projects and personnel he oversaw.
Along these lines the pathologist has gone to excessive lengths to demonstrate his findings and expert opinion in court proceedings. For example, in a famous criminal case Carver "put a euthanized pig through a wood chipper so jurors could match striations on the bone fragments with the few ounces of evidence that prosecutors said were on the remains of the victim."[4] One would therefore expect Carver to be in his element while identifying and verifying the exact ways in which Sandy Hook's children and teachers met their violent demise.
Yet the H. Wayne Carver who showed up to the December 15 press conference is an almost entirely different man, appearing apprehensive and uncertain, as if he is at a significant remove from the postmortem operation he had overseen. The multiple gaffes, discrepancies, and hedges in response to reporters' astute questions suggest that he is either under coercion or an imposter. While the latter sounds untenable it would go a long way in explaining his sub-pedestrian grasp of medical procedures and terminology.
With this in mind extended excerpts from this exchange are worthy of recounting here in print. Carver is accompanied by Connecticut State Police Lieutenant H. Paul Vance and additional Connecticut State Police personnel. The reporters are off-screen and thus unidentified so I have assigned them simple numerical identification based on what can be discerned of their voices.
Reporter #1: So the rifle was the primary weapon?

H. Wayne Carver: Yes.

Reporter #1: [Inaudible]

Carver: Uh (pause). Question was what caliber were these bullets. And I know - I probably know more about firearms than most pathologists but if I say it in court they yell at me and don't make me answer [sic] - so [nervous laughter]. I'll let the police do that for you.

Reporter #2: Doctor can you tell us about the nature of the wounds. Were they at very close range? Were the children shot at from across the room?

Carver: Uhm, I only did seven of the autopsies. The victims I had ranged from three to eleven wounds apiece and I only saw two of them with close range shooting. Uh, but that's, uh y'know, a sample. Uh, I really don't have detailed information on the rest of the injuries.

[Given that Carver is Connecticut's top coroner and in charge of the entire postmortem this is a startling admission.-JT]

Reporter #3: But you said that the long rifle was used?

Carver: Yes.

Reporter #3: But the long rifle was discovered in the car.

State Police Lieutenant Vance: That's not correct, sir.

Unidentified reporter #4: How many bullets or bullet fragments did you find in the autopsy. Can you tell us that?

Carver: Oh. I'm lucky I can tell you how many I found. I don't know. There were lots of them, OK? This type of weapon is not, uh ... the bullets are designed in such a fashion that the energy - this is very clinical. I shouldn't be saying this. But the energy is deposited in the tissue so the bullet stays in [the tissue].

[In fact, the Bushmaster .223 Connecticut police finally claimed was used in the shooting is designed for long range field use and utilizes high velocity bullets averaging 3,000 feet-per-second, the energy of which even at considerable distance would penetrate several bodies before finally coming to rest in tissue.]

Reporter #5: How close were the injuries?

Carver: Uh, all the ones (pause). I believe say, yes [sic].

Reporter #6: In what shape were the bodies when the families were brought to check [inaudible].

Carver: Uh, we did not bring the bodies and the families into contact. We took pictures of them, uhm, of their facial features. We have, uh, uh - it's easier on the families when you do that. Un, there is, uh, a time and place for the up close and personal in the grieving process, but to accomplish this we thought it would be best to do it this way and, uh, you can sort of, uh ... You can control a situation depending on the photographer, and I have very good photographers. Uh, but uh -

Reporter #7: Do you know the difference of the time of death between the mother in the house and the bodies recovered [in the school].

Carver: Uh, no, I don't. Sorry [shakes head excitedly] I don't! [embarrassed laugh]

Reporter #8: Did the gunman kill himself with the rifle?

Carver: No. I - I don't know yet. I'll-I'll examine him tomorrow morning. But, but I don't think so.

[Why has Carver left arguably the most important specimen for last? And why doesn't he think Lanza didn't commit suicide with the rifle?]

Reporter #9: In terms of the children, were they all found in one classroom or -

Carver: Uhm ... [inaudible] [Turns to Lieutenant Vance] Paul and company will deal with that.

Reporter #9: What?

Carver: Paul and company will deal with that. Lieutenant Vance is going to handle that one.

Reporter #10: Was there any evidence of a struggle? Any bruises?

Carver: No.

Reporter #11: The nature of the shooting; is there any sense that there was a lot of care taken with precision [inaudible] or randomly?

Carver: [Exhales while glancing upward, as if frustrated] Both. It's a very difficult question to answer ... You'd think after thousands of people I've seen shot but I ... It's ... If I attempted to answer it in court there'd be an objection and then they'd win - [nervous laughter].

[Who would win? Why does an expert whose routine job as a public employee is to provide impartial medical opinion concerned with winning and losing in court? Further, Carver is not in court but rather at a press conference.]

Reporter #12: Doctor, can you discuss the fatal injuries to the adults?

Carver: Ah, they were similar to those of the children.

Reporter #13: Doctor, the children you had autopsied, where in the bodies were they hit?

Carver: Uhm [pause]. All over. All over.

Reporter #14: Were [the students] sitting at their desks or were they running away when this happened?

Carver: I'll let the guys who - the scene guys talk - address that issue. I, uh, obviously I was at the scene. Obviously I'm very experienced in that. But there are people who are, uh, the number one professionals in that. I'll let them - let that [voice trails off].

Reporter [#15]: How many boys and how many girls [were killed]?

Carver: [Slowly shaking his head] I don't know.
More Unanswered Questions and Inconsistencies
In addition to Carver's remarks several additional chronological and evidentiary contradictions in the official version of the Sandy Hook shooting are cause for serious consideration and leave doubt in terms of how the event transpired vis-à-vis the way authorities and major media outlets have presented it. It is now well known that early on journalists reported that Adam Lanza's brother Ryan Lanza was reported to be the gunman, and that pistols were used in the shooting rather than a rifle. Yet these are merely the tip of the iceberg.
When Did the Gunman Arrive?
After Adam Lanza fatally shot and killed his mother at his residence, he drove himself to the elementary school campus, arriving one half hour after classes had commenced. Dressed in black, Lanza proceeds completely unnoticed through an oddly vacant parking lot with a military style rifle and shoots his way through double glass doors and a brand new yet apparently poorly engineered security system.
Further, initial press accounts suggest how no school personnel or students heard gunshots and no 911 calls are made until after Lanza begins firing inside the facility. "It was a lovely day," Sandy Hook fourth grade teacher Theodore Varga said. And then, suddenly and unfathomably, gunshots rang out. "I can't even remember how many," Varga said.[5]
The recollection contrasts sharply with an updated version of Lanza's arrival where at 9:30AM he
walked up to the front entrance and fired at least a half dozen rounds into the glass doors. The thunderous sound of Lanza blowing an opening big enough to walk through the locked school door caused Principal Dawn Hochsprung and school psychologist Mary Scherlach to bolt from a nearby meeting room to investigate. He shot and killed them both as they ran toward him.
Breaching the school's security system in such a way would have likely triggered some automatic alert of school personnel. Further, why would the school's administrators run toward an armed man who has just noisily blasted his way into the building?
Two other staff members attending the meeting with Hochsprung and Scherlach sustained injuries "in the hail of bullets" but returned to the aforementioned meeting room and managed a call to 911.[6] This contrasted with earlier reports where the first 911 call claimed students "were trapped in a classroom with the adult shooter who had two guns."[7] Recordings of the first police dispatch following the 911 call at 9:35:50 indicate that someone "thinks there's someone shooting in the building."[8] There is a clear distinction between potentially hearing shots somewhere in the building and being almost mortally caught in a "hail of bullets."


How did the gunman fire so many shots in such little time?
According to Dr. Carver and State Police, Lanza shot each victim between 3 and 11 times during a 5 to 7 minute span. If one is to average this out to 7 bullets per individual - excluding misses - Lanza shot 182 times, or once every two seconds. Yet according to the official story Lanza was the sole assassin and armed with only one weapon. Thus if misses and changing the gun's 30-shot magazine at least 6 times are added to the equation Lanza must have been averaging about one shot per second - extremely skilled use of a single firearm for a young man with absolutely no military training and who was on the verge of being institutionalized. Still, an accurate rendering of the event is even more difficult to arrive at because the chief medical examiner admittedly has no idea exactly
how
the children were shot or whether a struggle ensued.
Where is the Photo and Video Evidence?
Photographic and video evidence is at once profuse yet lacking in terms of its capacity to demonstrate that a mass shooting took place on the scale described by authorities. For example, in an era of ubiquitous video surveillance of public buildings especially no visual evidence of Lanza's violent entry has emerged. And while studio snapshots of the Sandy Hook victims abound there is little if any eyewitness testimony of anyone who's observed the corpses except for Carver and his staff, and they appear almost as confused about the conditions of the deceased as any layperson watching televised coverage of the event. Nor are there any routine eyewitness, photo or video evidence of the crime scene's aftermath - broken glass, blasted security locks and doors, bullet casings and holes, bloodied walls and floors - all of which are common in such investigations and reportage.
Why Were Medical Personnel Turned Away From the Crime Scene?
Oddly enough medical personnel are forced to set up their operation not at the school where the dead and injured lay, but rather at the fire station several hundred feet away. This flies in the face of standard medical operating procedure where personnel are situated as close to the scene as possible. There is no doubt that the school had ample room to accommodate such personnel. Yet medical responders who rushed to Sandy Hook Elementary upon receiving word of the tragedy were denied entry to the school and forced to set up primary and secondary triages off school grounds and wait for the injured to be brought to them.
Shortly after the shooting "as other ambulances from neighboring communities rolled up, sirens blaring, the first responders slowly realized that their training would be tragically underutilized on this horrible day. 'You may not be able to save everybody, but you damn well try,'" 44 year old emergency medical technician James Wolff told NBC News. "'And when (we) didn't have the opportunity to put our skills into action, it's difficult.'"[9]
In light of this, who were the qualified medical practitioners pronounced the 20 children and 7 adults dead? Who decided that none could be revived? Carver and his staff are apparently the only medical personnel to have attended to the victims - yet this was in the postmortem conducted several hours later. Such slipshod handling of the crime scene leaves the State of Connecticut open to a potential array of hefty civil claims by families of the slain.
Did a mass evacuation of the school take place?
Sandy Hook Elementary is attended by 600 students. Yet there is no photographic or video evidence of an evacuation on this scale. Instead, limited video and photographic imagery suggest that a limited evacuation of perhaps at most several dozen students occurred.
A highly circulated photo depicts students walking in a single file formation with their hands on each others' shoulders and eyes shut. Yet this was the image of a drill that took place prior to the event itself.[10. See Correction] Most other photos are portraits of individual children. Despite aerial video footage of the event documenting law enforcement scouring the scene and apprehending one or more suspects in the wooded area nearby the school,[11] there is no such evidence that a mass exodus of children from the school transpired once law enforcement pronounced Sandy Hook secure. Nor are there videos or photos of several hundred students and their parents at the oft-referenced fire station nearby where students were routed for parent pick up.
Sound Bite Prism and the Will to Believe
Outside of a handful of citizen journalists and alternative media commentators Sandy Hook's dramatically shifting factual and circumstantial terrain has escaped serious critique because it is presented through major media's carefully constructed prism of select sound bites alongside a widespread and longstanding cultural impulse to accept the pronouncements of experts, be they bemused physicians, high ranking law enforcement officers, or political leaders demonstrating emotionally-grounded concern.
Political scientist W. Lance Bennett calls this the news media's "authority-disorder bias." "Whether the world is returned to a safe, normal place," Bennett writes, "or whether the very idea of a normal world is called into question, the news is preoccupied with order, along with related questions of whether authorities are capable of establishing or restoring it."[12]
Despite Carver's bizarre performance and law enforcement authorities' inability to settle on and relay simple facts, media management's impulse to assure audiences and readerships of the Newtown community's inevitable adjustment to its trauma and loss with the aid of the government's protective oversight - however incompetent that may be - far surpasses a willingness to undermine this now almost universal news media narrative with messy questions and suggestions of intrigue. This well-worn script is one the public has been conditioned to accept. If few people relied on such media to develop their world view this would hardly be a concern. Yet this is regrettably not the case.
The Sandy Hook tragedy was on a far larger scale than the past year's numerous slaughters, including the Wisconsin Sikh temple shooting and the Batman theater shooting in Colorado. It also included glaringly illogical exercises and pronouncements by authorities alongside remarkably unusual evidentiary fissures indistinguishable by an American political imagination cultivated to believe that the corporate, government and military's sophisticated system of organized crime is largely confined to Hollywood-style storylines while really existing malfeasance and crises are without exception returned to normalcy.
If recent history is a prelude the likelihood of citizens collectively assessing and questioning Sandy Hook is limited even given the event's overtly superficial trappings. While the incident is ostensibly being handled by Connecticut law enforcement, early reports indicate how federal authorities were on the scene as the 911 call was received. Regardless of where one stands on the Second Amendment and gun control, it is not unreasonable to suggest the Obama administration complicity or direct oversight of an incident that has in very short order sparked a national debate on the very topic - and not coincidentally remains a key piece of Obama's political platform.
The move to railroad this program through with the aid of major media and an irrefutable barrage of children's portraits, "heartfelt" platitudes and ostensible tears neutralizes a quest for genuine evidence, reasoned observation and in the case of Newtown honest and responsible law enforcement. Moreover, to suggest that Obama is not capable of deploying such techniques to achieve political ends is to similarly place ones faith in image and interpretation above substance and established fact, the exact inclination that in sum has brought America to such an impasse.
Notes
[1] State of Connecticut Department of Emergency Services and Public Protection, "
State Police Investigate Newtown School Shooting
" [Press Release] December 15, 2012.
[2] State of Connecticut Department of Emergency Services and Public Protection, "
Update: Newtown School Shooting
" [Press Release], December 19, 2012.
[3] CNN, "Family of 6 Year Old Victim," December 14, 2012, "
Sandy Hook School Shooting Hoax Fraud
," Youtube, December 17, 2012.
[4]
Hartford Courant
, "
Finally 'Enough' For Chief Medical Examiner
" [Editorial], January 30, 2012.
[5] John Christofferson and Jocelyn Noveck, "
Sandy Hook School Shooting: Adam Lanza Kills 26 and Himself at Connecticut School
,"
Huffington Post
, December 15, 2012.
[6] Edmund H. Mahoney, Dave Altmari, and Jon Lender, "
Sandy Hook Shooter's Pause May Have Aided Escape
,"
Hartford Courant
, December 23, 2012.
[7] Jaweed Kaleem, "
Sandy Hook Elementary School Shooting: Newtown Connecticut Students, Administrators Among Victims, Reports Say
,"
Huffington Post
, December 14, 2012.
[8] RadioMan911TV, "
Sandy Hook Elementary School Shooting Newtown Police / Fire and CT State Police
," Youtube, December 14, 2012. At several points in this recording audio is scrambled, particularly following apprehension of a second shooting suspect outside the school, suggesting a purposeful attempt to withhold vital information.
[9] Miranda Leitsinger, "
You Feel Helpless: First Responders Rushed to School After Shooting, Only to Wait
,"
US News on NBC
, December 20.
[10]
http://thenetng.com/wp-content/uploads/2012/12/Sandy-Hook-Elementary-School-600×400.jpg. 12/25/12
Update/Correction: Note that this photo of approximately fifteen children allegedly being evacuated from Sandy Hook Elementary
was
reportedly produced on December 14. See Connor Simpson, Alexander Abad-Santos et al, "Newtown School Shooting: Live Updates,"
The Atlantic Wire
, December 19, 2012. Still, the paltry number of children confirms the claim that little photographic evidence exists of Sandy Hook's 600 students being moved from the facility on December 14. This photo was from a Tweet of a Sandy Hook drill published by the school's slain principal Dawn Hochsprung titled, "Safety First." See Julia La Rouche, "Principal Killed in Sandy Hook Tweeted Picture of Students Practicing an Evacuation Drill,"
Business Insider
, December 16, 2012.
[11] Rob Dew, "Evidence of 2
nd
and 3
rd
Shooter at Sandy Hook,"
Infowars Nightly News
, December 18, 2012,
http://www.youtube.com/watch?v=8nCFHImNeRw
. A more detailed yet less polished analysis was developed by citizen journalist Idahopicker, "
Sandy Hook Elem: 3 Shooters
," December 16, 2012. See also James F. Tracy, "
Analyzing the Newtown Narrative: Sandy Hook's Disappearing Shooter Suspects
," Memoryholeblog.com, December 20, 2012.
[12] W. Lance Bennett, News: The Politics of Illusion 9
th
Edition, Boston: Longman, 2012, 47.
Andrew Whooley provided suggestions and research for this article.
Republished at
GlobalResarch.ca
on December 25, 2012.
____
Sandy Hook School Massacre Part II: Continued Ambuguity and Augmented Realities
Revised on January 4, 2013
As documents relating to the Sandy Hook shooting continue to be assessed and interpreted by independent researchers there is a growing awareness that the media coverage of the massacre of 26 children and adults was intended primarily for public consumption to further larger political ends.
A considerable amount of evidence has been withheld by authorities, who in a telling move have successfully postponed public disclosure of items culled from Nancy and Adam Lanzas' residence and vehicles for an additional ninety days.
[1]
At the same time what has been revealed and captured in press reports suggests how from missing suspects and evidence to unrevealed corpses much is still unknown and mainstream news outlets have been at least complicit in what could conceivably be described as the Sandy Hook massacre's constructed reality. In this way unseen and largely unaccountable authorities set the agenda of the reportage through a titillating storyline reliant on an unsettling symbolic landscape to further develop and cultivate audience credulity.
The spectacle came complete with its own features specially designed for those with a penchant for pointing to intrigue. Shortly after the shooting prominent Arizona political figure and former gubernatorial aspirant Michael Harris opined that the shooting was carried out by an Israeli paramilitary team.
Veterans Today
Editor Gordon Duff amplified this speculative assertion through a brief article carried by Iran's PressTV that went viral, becoming the Iranian news outlet's most read item ever.[2]
Despite compelling geopolitical and diplomatic conditions the claim cannot be verified because the identities of the two-to-four additional suspected gunmen apprehended by Newtown and Connecticut state police remain undisclosed while almost all identity-specific references to these suspects were scrambled on the audio recording of the emergency dispatch-responders exchange. Were these men possibly playing roles in an emergency drill?
Much can still be gleaned from the press coverage of Sandy Hook. Most importantly, as with the events of 9/11 that ushered in the interminable "war on terror" and police state, the techniques that have emblazoned Sandy Hook in public consciousness require continued scrutiny if only for the fact that they will almost certainly be deployed to create similar disaster scenarios, likely in the near-term.
Was Sandy Hook a Relocated Emergency Drill?
At 9:53AM, no more than ten minutes after the reported shooting ceased, the Associated Press
published a story
, "Official with Knowledge of Connecticut School Shooting Says 27 Dead, Including 18 Children."
AP
and the
Washington Post
have since removed the story from their websites in lieu of subsequent reports that took their cue from a press conference scheduled for later that day.
Indeed, aside from internal police accounts of what took place inside Sandy Hook Elementary there is little information available to piece together what may have actually transpired inside the school. No photographic or video footage of the crime scene have been made publicly available and major media have to a large degree based their conclusions on Connecticut Medical Examiner H. Wayne Carver's verbal account of the postmortem which is at best ambiguous.[3]
Two weeks after the incident an attorney representing the family of one six-year-old Sandy Hook student came forth with a $100 million lawsuit because their child "sustained emotional and psychological trauma and injury" when she, like several other children and staff, heard "'cursing, screaming, and shooting' over the school intercom." The suit has since been withdrawn.[4]
Coverage of the event by the modest local weekly the
Newtown Bee
is most revealing in its combined discrepancies, vagueness, and brevity. In a December 14 article unidentified school personnel were floridly commended for their courage. Among them were school principal Dawn Hochsprung, who recounted to
Bee
Editor John Voket[5] how "a masked man entered the school with a rifle and started shooting multiple shots - more than she could count - that went 'on and on.'"
The problem with the account was that it conflicted with a subsequent storyline where Hochsprung was the first to be killed by the gunmen. Three days later the paper issued a retraction and revised the story further.[6] No additional explanation was provided concerning what party Volkert spoke to and quoted at the crime scene, suggesting from the onset a partly botched attempt at establishing a well-worn storyline.
Along these lines the same article relates what under the circumstances seems like an odd exchange between law enforcement and the school's staff. Shortly after the incident
an unidentified woman wearing a Connecticut State Police jacket addressed the group of teachers and staff who were consoling each other in the empty Sandy Hook apparatus bays. She complimented them on their individual and "exemplary" efforts following the procedures they were taught to ensure the protection of as many children and colleagues as possible.[7]
In the immediate aftermath of a bloody massacre where 27 lay dead or dying is this the appropriate time for a "post-game pep talk" and slaps on the back? What this closely resembles is the breakdown of a shooting drill, one that proceeded with violent sound effects broadcast through the school's intercom system. In fact, on the same day the State of Connecticut Department of Emergency Services and Public Protection in association with the Federal Emergency Management Agency were carrying out a "Planning for the Needs of Children in Disaster" drill in nearby Bridgeport.[8] Was the exercise location changed to Newtown at the last minute?
Close analysis of circumstances surrounding the event including unusual emergency procedures and news outlets' interactions with alleged victim families following the shooting reveals important recurrent features and figures that further call the official account into question.
A Phantom Evacuation?
Additional facets of coverage and maneuvers suggesting the possibility of an at least a partially staged event include the choice of the Sandy Hook Fire and Rescue Company's headquarters as an evacuation point for the school's students. This is accompanied by a lack of photographic or video evidence of such a widespread evacuation, bizarre interview footage of idle and wandering families alongside an emotional man who just happens across a half dozen Sandy Hook first graders in his front lawn who apparently witnessed their teacher's murder.
Newtown Bee
Associate Editor Shannon Hicks asserts that she was among the first on the scene at Sandy Hook, driving behind police and "taking photographs immediately through the windshield of her car, with one hand on the steering wheel and one holding her camera."[9] Strangely, however, at best only two of Hicks' photos actually emerge from the series - the famous shot of about fifteen students in conga line formation evidently moving across the parking lot en route to the fire station and a second of state police officers appearing in the December 14
Bee
report that is later expunged.
Hicks' ferocity and determination to capture the scene only yields a few published photos at a time when corporate media outlets were very eager for such documentation, while no other photo or video evidence have emerged indicating such a widespread exodus from the school.
Nor is there any rationale provided in reportage on exactly
why
the fire station is even designated as an evacuation point. The choice is unusual because the school has only one route in and out of the facility - Dickenson Drive - and in the event of an actual emergency children are forced to parade down a street as police cars, fire engines, and ambulances race the other way. Many schools use their adjoining parking lots as a rendezvous point, and Sandy Hook's is particularly capacious.
Despite this dangerous and untenable set of conditions Sandy Hook students rehearsed this very scenario less than two months prior, as revealed in a photo
Tweeted on October 17 by Principal Hochsprung
. The image depicts a much larger assemblage of students in the lot behind the Sandy Hook fire station.
Itinerant "Crisis Actors"?
Following an evacuation of such magnitude the Sandy Hook fire depot would have been bursting at the seams with over six hundred children and staff, and at least as many family members, in addition to police, fire and medical personnel. Yet apart from a large array of emergency vehicles at the site no aerial footage indicates activity on this scale at any point following the shooting.
Instead, there are numerous strange encounters between broadcast journalists and small and sporadic group of wandering parents and children, some of whom are at best moderately curious and far from grief-stricken or hysterical at the prospect that their child may have been caught in the deadly assault. After such a harrowing event why are select would-be family members and students lingering in the area and repeatedly offering themselves for interviews? A possible reason is that they are
trained actors
working under the direction of state and federal authorities and in coordination with cable and broadcast network talent to provide tailor-made
crisis acting
that realistically drives home the event's tragic features.
One organization providing such services is the Colorado-based
Vision Box's
acting troupe
Crisis Actors.
The entourage's personnel are "available nationwide for active shooter drills and mall shooting full-scale exercises." Crisis Actors "develop and portray characters in emergency training scenarios," Vision Box's website reads.
The intensity at which they work recreates real life pressures that first responders going through the training must cope with ... This special group has sessions with police officers, 911 operators, school administrators, mall security, radio experts, and school safety training professionals. There is an endless amount of scenarios this group can tackle, which range anywhere from weather issues, to a missing child, to an unknown intruder.
According to Crisis Actors website group members work in association with the Federal Emergency Management Agency and "can play the part of the shooters, mall employees, shoppers in the mall, shoppers who continue to arrive at the mall, media reporters and others rushing to the mall, and persons in motor vehicles around the mall." They are also trained to "play the role of citizens calling 911 or mall management, or posting comments on social media websites."
Is it possible that such actors were utilized in Newtown to control the event's depiction and magnify its effect on public opinion? With the exception of police and government officials, the shocked and grief-stricken students, family members and pedestrians captured in
photos
from the shooting's aftermath are almost entirely anonymous. Further, the suggestion of collaborative efforts between journalists and families is evident in many of the interviews with family members, such as this surprisingly aborted exchange between a would-be parent and journalist.
Reporter: Sir, can I talk to you a second here? We're Channel Two in New York. How did you find out about this, uhm, terrible tragedy?
[Reporter approaches family of three with third grade daughter and apparent Sandy Hook student accompanying them.-JT]
Unidentified Mother: OK. My daughter's in third grade. We got, uhm, an automated call from, uhm, from the town -
Reporter: Yeah?
Mother: - that there had been a shooting.
Reporter: Sure.
Mother: Uh, nothing about where the shooting was, and that the schools were on lock down.
Reporter: So you were assuming it was probably the high school at first, right?
[Note that the mother has yet to say anything about having a son attending the local high school.]
Mother: Of course, and my son's at the high school and I text him. He said, "Everything's fine here."
Reporter: Yeah.
Unidentified Mother: And then I got another text from, uh, CBS.
With virtually hundreds of students, faculty, staff and their families looking for each other and being reunited around the scene one would think journalists would have a broad range of interviewees from which to choose. Yet the
same
mother and daughter are again captured the morning of the shooting by an NBC affiliate.
Unidentified Mother: Another friend of mine said that, uhm, there was a man - masked man came in and just started shooting.
Unidentified Daughter: When we were gone doing morning meeting [sic] like, we heard like, shots and everybody went on the ground and Ms. Martin just closed the door and we went to the corner.
In the same news clip another male child describes in unusual detail how he narrowly escaped the gunman's hail of bullets.
Unidentified male student: I heard something like a person was kicking on a door. Then I turned around and I saw smoke and I smelled smoke. Then (pause) Then bullets whizzed by. Then - then a teacher pulled me in to her room.
Here is the same student
speaking to another journalist
.
Unidentified male student: I saw some of the bullets going past the hall [sic] that I was right next to and then a teacher pulled me into her classroom.
Reporter: You heard sounds?
Male student: Yes.
Reporter: What did it sound like to you?
Male student: It sounded like someone was kicking a door.
The frequent hesitancy with specific words in this children's deliveries, combined with a parent allowing their child repeatedly recount such an event and the unemotional, almost identically-worded delivery, suggests how they have been coached to present memorized lines.
Another child by the name of "Alexis Wasick" also makes at least two appearances and, following the unscripted lead of one journalist, recites similar lines in each interview.
CNN Reporter: Joining me is the Wasick family. We have Alexis who is in third grade. You told me you were sitting in class this morning and you saw a lot of police. Tell me-tell me how you found out what was going on.
"Alexis": Well, we found that there was all these people and we found that [unintelligible] because we were right near the window in our classroom. And like, we saw like police officers and we heard them [directly addressing camera] on the roof and in our building.
[At this point "Alexis" receives some cues from CNN's reporter.]
Reporter: Was everybody crying, scared, wanting their parents to get them?
"Alexis": Yeah, they were. And some people were even like, they kind of wish that they got a stomach ache [sic].
On the same day "Alexis" gives a somewhat different account with similar verbiage to an entirely different reporter.
Reporter: What happened?
"Alexis":[Addressing reporter offscreen] Nothing really [unintelligible] We heard like an ambulance and a police officer come and everybody was a little scared crying and I felt actually a little sick, and I felt like I was going to throw up and [glances at camera] did my teacher too [sic]. [The garbled line, "My teacher did too," suggests a canned delivery.]
Reporter: How did you get out of there?
"Alexis": We had to [vocal cadence slowing] go - through - the - building (pause) and then we had to just go to the firehouse.
The performance of Sandy Hook resident Gene Rosen suggests how the community members might become intimately enveloped in the unfolding tragedy. Despite the overwhelming federal, state and local police presence blanketing the community on December 14 Rosen explains several days later how while feeding his cat he receives an unexpected visit from six mislaid and forlorn children whose classmates and first grade teacher Victoria Soto were killed in the shooting. "The six who turned up at Rosen's home apparently ran out of the school past her body," the
New York Post
amazingly asserts.[10] Instead of calling the authorities to properly reunite the children with their parents Rosen bizarrely invites them inside his home for 30 minutes to jostle with stuffed animals and describe their ordeal.
In an initial interview Rosen is standing in the driveway of his home and appears overcome with emotion, taking off his glasses while turning away from the camera and wiping eyes. He then proceeds down the driveway toward the front of his house, pointing to where he first spotted the children.
Rosen: Six children, and they were sitting there. They were sitting there, and I had no idea why they were there. And I went down there.
[Cut to Rosen's hands clutching reading glasses, then back to Rosen.]
Rosen: There's a school bus driver and she says, "There's been an incident. And I said, "Just come in the house." And that's how it started and I - I brought them in the house.
[Cut to stuffed animals inside Rosen's house, then back to Rosen.]
Rosen: And then over the next thirty minutes they just described what happened, little-by-little. These two boys kept saying, "We can't go back to school. We can't go back to school. Our teacher's dead - Mrs. Soto. We don't have a teacher." And I couldn't believe it. I couldn't take that in. I had no idea what had happened. A woman came to my house at twelve o'clock
[Cut to dimly-lit interior of house where Rosen stands before stuffed animals on floor.]
Rosen: Her face - her face looked frozen in-in terror. I've never seen a face look like that. She said, "Is my boy here? I heard there were six kids here." And she said the name of the child. I thought that if she'd been to the Sandy Hook school she thought maybe a miracle from god would have the child in my house. And I looked at the casualty list at six o'clock.
[Hand to eyes and weeping, then shaking head]
Rosen: His name was on it!
Time and again in the wake of the incident Rosen is brought before network cameras to present his maudlin recounting of the surreal and implausible encounter.
Continued Postmortem Uncertainties
To properly identify each victim would have required weighing, measurement, de-robing, washing, with all identifying features such as scars or birthmarks noted. Such standard postmortem procedures, the public is asked to believe, were accomplished at the school as no more than three were treated at the well-prepared Danbury Hospital.[11] According to Carver's December 15 press conference remarks the teachers and children were processed by the state coroner and his staff at an onsite mobile facility the night of the shooting.
Yet at least one family was not even allowed to see the body of their loved one. "They told me, 'You can't see (the body),'" Gilles Rousseau remarked to Radio-Canada, the French-language arm of the Canadian Broadcasting Corporation. "Because most people he shot, it was two or three shots in the face, point-blank."[12] If this were the case it puts further pressure on the uncertain notion that Lanza was an expert shot who had the opportunity to uninterruptedly fire at almost inanimate subjects.
Further, without explanation Carver postponed examination of Adam Lanza's body until two days after the shooting. Jean Henry, a processing technician in Carver's office, was recently placed on leave when she allegedly brought her husband, an unauthorized party, in to the state morgue to view Lanza's corpse.
They went to the gurney where Lanza lay, then Henry unzipped the bag so her husband could look at him for a moment, and she closed the bag and they left the room, sources familiar with situation told The Courant Wednesday.[13]
The refusal for at least one family to view the body of their loved one and Henry's informal intervention both contribute to the uncertainty and ambiguity surrounding what appears as a severely compromised postmortem operation, the gross inconsistencies of which major media have presented to the world as established fact.
Conclusion
As transcribed and analyzed in Part I of this analysis, the unusual testimony of Connecticut's chief coroner H. Wayne Carver II, ostensibly placed in charge of the Sandy Hook school postmortem. Carver's December 15 behavior and remarks before the press suggests his clear discomfort and demonstration that he knows very little about the shootings or autopsies themselves. In light of the above the physician's hesitant performance in Sandy Hook's tragedy is perhaps not so difficult to explain. At one point Carver even indicates his disapproval of the proceedings by expressing his wish that his staff and "the people of Newtown don't have it crash on their head later." Is Carver referring to an embellished event that he has been an unwilling participant in?
As indicated on the Crisis Actors website, performance of this type is now a commonplace feature of widely prevalent "live shooter drills" and may be infused throughout such an event and its aftermath to augment and control a broader narrative intended for public consumption. "The power to make a reportable event," historian Daniel Boorstin writes, is "the power to make experience."[14]
Along these lines and despite countervailing facts and inconsistencies the official story of the Sandy Hook shooting is now part of the nation's collective experience, consciousness and memory. To declare that the shooting "never took place" is cause for intense opprobrium in most polite circles where, in familiar Orwellian fashion, the media-induced trance and dehistoricized will to believe maintain their hold. Similarly, an individual who contends that Timothy McVeigh was an accessory in a much larger operation at Oklahoma City, Osama bin Laden was not responsible for the events of 9/11, or the World Trade Center Towers were brought down by controlled demolition is vigorously condemned for thought crimes against the state. Such are the immense dimensions of mass manipulation where fact and tragedy may be routinely revised and reinforced to fit the motives and designs toward a much larger apparatus of social and geopolitical control.
Notes
[1] Michelle Tuccitto Sullo, "Newtown Search Warrants for Adam Lanza's Home, Vehicles Still Sealed,"
New Haven Register
, December 29, 2012.
[2] Gordon Duff, "
Israeli Death Squads Involved in Sandy Hook Blood Bath
,"
PressTV
, December 18, 2012.
[3] James F. Tracy, "
The Sandy Hook School Massacre: Unanswered Questions and Missing Information
," Global Research, December 25, 2012.
[4] Mary Ellen Godin, "
Claim Seeks $100 Million for Child Survivor of Connecticut School Shooting
," Reuters/Yahoo News, December 28, 2012. The suit was tentatively withdrawn shortly thereafter. Michael P. Mayko, "
Lawyer Withdraws Sandy Hook Suit, May Refile
," Connecticut Post, December 31, 2012.
[5] John Voket, "
Stories of Heroism Emerging From School Tragedy
,"
Newtown Bee
, December 14, 2012.
[6] "
Retraction and Apology
," Newtown Bee, December 17, 2012. See Niall Bradley, "
Sandy Hook Massacre: Official Story Spins Out of Control
,"
Veterans Today
, December 20, 2012.
[7] Voket, "Stories of Heroism."
[8] "
FEMA Was Running a 'Drill' Between 9AM and 4PM on December 14th, in Connecticut
!"
DailyPaul.com
, December 26, 2012.
[9] Julie Moos, "How the
Newtown Bee is Covering Sandy Hook Elementary School Shooting
,"
Poynter.org
, December 15, 2012.
[10] Reuven Fenton, "
Children at Door: Teacher is Dead,"
New York Post
, December 18, 2012.
[11] Joe Van Brussel, "
Danbury Hospital Prepared for School Shooting Massive Casualties, Got Few
,"
Huffington Pos
t, December 14, 2012.
[12] Lise Millette, "
Lauren Rousseau, Teacher killed in Newtown Shooting, Mourned by Canadian Family
,"
Canadian Press
via
Huffington Post
, December 18, 2012.
[13] Jon Lender and David Altimari, "
State Worker Placed on Leave After Showing Husband Adam Lanza's Body
,"
Hartford Courant
, January 2, 2012.
[14] Daniel J. Boorstin,
The Image: A Guide to Pseudo-Events in America
, 25th Anniversary Edition. New York: Vintage Books, 1987 [1961], 10.
Sandy Hook School Massacre Timeline
Updated January 7, 2013
The following timeline of the December 14 mass killing of 20 children and 8 adults in Newtown Connecticut attempts to demonstrate how the event was presented to the public by corporate news media. The chronological assemblage of coverage is not comprehensive of all reports published on the incident but rather seeks to verify how the storyline was to a substantial degree constructed by federal and state law enforcement authorities and major media around the theory that 20-year-old Adam Lanza was the sole agent in the massacre.
This scenario became an established reality through the news media's pronounced repetition of the lone gunman narrative and meme. This proposed scenario significantly obscured the fact that police encountered and apprehended two additional shooting suspects on the school's grounds within minutes of the crime. These suspects remain unaccounted for by authorities but the roles they may have played arguably correlate with the shifting information presented by authorities and major news media on injuries and weapons vis-à-vis the mass carnage meted out in the school. While the certain detainment of additional suspects was pointed to by alternative news media, including
Natural News
, Infowars, Veterans Today and Global Research in the days following the tragedy, the untenable lone gunman narrative has become firmly established in the public psyche via an overwhelming chorus of corporate media reports and interpretations.
Note: Times of occurrences referenced are Eastern Standard Time and in some instances signify time of publication rather than the specific incident cited. Time of publication does not always correlate with exact time of incident. "n.t." denotes "no time" of publication referenced.
2012
September
At the start of the 2012-13 academic year Sandy Hook Elementary School Principal Dawn Hochsprung announces in a public letter to families the Newtown School District's new security system installed "in all elementary schools." Under the newly-announced security regimen, "exterior doors will be locked during the day. Every visitor will be required to ring the doorbell at the front entrance and the office staff will use a visual monitoring system to allow entry. Visitors will still be required to report directly to the office and sign in. If our office staff does not recognize you, you will be required to show identification with a picture id. Please understand that with nearly 700 students and over 1,000 parents representing 500 SHS families, most parents will be asked to show identification. Doors will be locked at approximately 9:30 a.m." "
Principal Outlined New Security Procedures at Sandy Hook Elementary
," Hartford Courant, December 14, 2012, 8:25PM EST.
October 17
9:47AM
Sandy Hook Principal Dawn Hochsprung
Tweets
photo of emergency drill held at Sandy Hook fire station with Sandy Hook Elementary faculty and students participating. Esther Zuckerman, "
The Sandy Hook Principal's Twitter Feed is Haunting
," The Atlantic Wire, December 14, 2012.
November 7
Following Obama's reelection Senator Diane Feinstein is believed to be meeting with relevant federal agencies to lay groundwork for reenacting assault weapons ban. "
Senator Diane Feinstein Moves to Ban All Assault Rifles, High Capacity Magazines, and Pistol Grips
," Market Daily News, November 7, 2012.
December 14
10:14AM
Hartford Courant
publishes online Google map of Sandy Hook Elementary School. "
Map of Sandy Hook Elementary School
," Hartford Courant, December 14, 2012.
10:47AM
Connecticut State Police report assisting Newtown police in a shooting at Sandy Hook Elementary School in Newtown, Connecticut. "The
Hartford Courant
[<-hyperlink is to a different story] reports there are multiple injures [sic] and unconfirmed reports that one of the shooters is dead while the other is still at large. The school superintendent's office says the district has locked down schools to ensure the safety of students and staff. Crimeside Staff, "
Connecticut School Shooting: Police Investigating Reports of a Shooting at Elementary School
," CBS News, December 14, 2012.
10:47AM
[Famous photo taken by Newtown Bee editor is distributed via CBS and other national media.]
Connecticut School Shooting: Police Investigating Reports of a Shooting at Elementary School
,"
CBS News
, December 14, 2012, 1047AM EST.
11:30AM
A Newtown Volunteer Ambulance Corps dispatcher says a Sandy Hook Elementary School teacher was taken to hospital after being shot in the foot. "There are reports of multiple injuries," CBS notes. The Newton Bee reports a student with apparently serious wounds was carried out of the facility by a police officer. The school superintendent's office says all schools in the district remain in lockdown. Crimesider Staff, "
Connecticut School Shooting Update: One Gunman Dead, One Teacher Injured at Elementary School
," CBS News, December 14, 2012.
11:34AM
Police say the shooter is dead and two weapons were recovered from him. "The source says one weapon recovered is a Glock and the other is a Sig Sauer."
Children and Adults Gunned Down in School Massacre
," CNN, December 14, 2012.
12:29PM
Hartford Courant mysteriously publishes online Googlemap of neighborhood of Lanza residence, which is 36 Yogananda St. "
Map of 46 Yogananda St. Sandy Hook, CT
," Hartford Courant, December 14, 2012.
12:27PM
Anonymous witness and parent of student says that while attending a meeting with faculty regarding her child she heard "at least 100 rounds" being fired when the shooting began about 9:30 to 9:35AM. "There was a 'pop pop pop' in the hall outside the room. Three people went out of the room into the hall where the sounds had come from. 'Only one person came back.'" The same witness says "she then called 911. She said she never saw the shooter but she later was escorted outside the room past two bodies lying in blood." "
Children and Adults Gunned Down in School Massacre
," CNN, December 14, 2012.
1:57PM
An anonymous federal law enforcement source informs news media the death toll is closer to 30 than 20, with most of those killed being children. The source, who says he is in contact with authorities on the scene, says the suspected gunman had a connection to the school but would not elaborate.
Children and Adults Gunned Down in School Massacre
," CNN, December 14, 2012.
2:09PM
CNN is "told that 18 to 20 of the dead are children."
Children and Adults Gunned Down in School Massacre
," CNN, December 14, 2012.
2:11PM
An anonymous law enforcement official tells CNN that the suspect's name is Ryan Lanza and he is in his 20s.
Children and Adults Gunned Down in School Massacre
," CNN, December 14, 2012.
2:39PM
Anonymous federal law enforcement authorities say "the shooting happened quickly and happened in a concentrated area."
Children and Adults Gunned Down in School Massacre
," CNN, December 14, 2012.
2:52PM
Father of Sandy Hook Elementary School third grade student Stephen Delgiudice describes to CBS News what his daughter heard over the loudspeaker from the principal's office. This prompted the teacher to lock the classroom door. "We have a pretty good program in Newtown," Delgiudice says. "where basically a code red reverse 911 type of a call, and a, came through. [It said] there's a shooting at the school and naturally I obeyed the speed limit and drove immediately to the school. And ah, y'know it was just mass-mass chaos. I finally got to my daughter - a friend of mine led me to my daughter. I wanted to see her face and hold her, which I did, and once I did that there was a sense of relief, but, uhm, it was just chaos." Crimesider Staff, "
Connecticut School Shooting: Father Says Student Heard Commotion Over Loudspeaker
," CBS News, December 14, 2012.
3:16PM
President Obama addresses nation. "As a country, we have been through this too many times. Whether it's an elementary school in Newtown, or a shopping mall in Oregon, or a temple in Wisconsin, or a movie theater in Aurora, or a street corner in Chicago - these neighborhoods are our neighborhoods, and these children are our children. And we're going to have to come together and take meaningful action to prevent more tragedies like this, regardless of the politics."
Children and Adults Gunned Down in School Massacre
," CNN, December 14, 2012.
3:51PM
A federal law enforcement official informs CNN that "shooter arrived and headed directly toward and to his mother's classroom. That and the other information now emerging - another family member killed, police interviews
-
lead them to believe his mother was the primary target. But they note he also came armed with clear intention of mass killing."
Children and Adults Gunned Down in School Massacre
," CNN, December 14, 2012.
3:45PM
There were a total of 27 people dead at the school, Lt. Paul Vance of the Connecticut State Police tells assembled reporters. "Eighteen students were pronounced dead at the scene, and two others died at the hospital." In addition, six adults were pronounced dead at the scene.
Children and Adults Gunned Down in School Massacre
," CNN, December 14, 2012.
3:54PM
CNN now reports "three guns found at the scene ... the third weapon found on the scene was a .223 Bushmaster. The other weapons, previously reported, are a Glock, and a Sig-Sauer. No word on the models of Glock or Sig-Sauer."
Children and Adults Gunned Down in School Massacre
," CNN, December 14, 2012.
6:34PM
Witnesses attest to seeing bloodied children, hearing as many as 100 shots, and "loud booms." "It was horrendous," parent Brenda Lebinski said, who rushed to the school where her daughter is a third grade student. "Everyone was in hysterics - parents, students. There were kids coming out of the school bloodied. I don't know if they were shot, but they were bloodied." Lebinski said another parent in the school "during the shooting told her a 'masked man' entered the principal's office and may have shot the principal. Lebinski, who is friends with the mother who was at the school, said the principal was "'severely injured.'" Lebinski's daughter's teacher "immediately locked the door to the classroom and put all the kids in the corner of the room." Nearby resident Melissa Murphy listened to events unfold on a police scanner. "'I kept hearing them call for the mass casualty kit and scream, "Send everybody! Send everybody!" Murphy said. 'It doesn't seem like it can be really happening. I feel like I'm in shock.'" A girl interviewed by an NBC Connecticut affiliate said she heard seven loud "booms" while in gym class. "A police officer came in and told us to run outside and so we did," the unidentified girl said on camera. Dan Burns and Chris Kaufman, "
Connecticut Gun Rampage: 28 Dead, Including 20 Children
," Reuters, December 14, 2012.
6:34PM
New York City Mayor Michael Bloomberg calls for greater gun control measures. "We need immediate action. We have heard all the rhetoric before. What we have not seen is leadership - not from the White House and not from Congress," Bloomberg said. "That must end today." Dan Burns and Chris Kaufman, "
Connecticut Gun Rampage: 28 Dead, Including 20 Children
," Reuters, December 14, 2012.
6:44PM
US officials representing three different lettered agencies separately identify the suspected shooter as Adam Lanza, in contrast to what investigators said earlier in the day. No explanation is given regarding what prompted confusion among investigators. Lanza's older brother, Ryan, was taken into custody for general questioning in Hoboken, New Jersey but was not labeled a suspect. "
Children and Adults Gunned Down in School Massacre
," CNN, December 14, 2012.
7:13PM
Fox News presents "newly released police dispatch audio" of exchange between 911 dispatcher and Newtown Police and Connecticut State Police encountering two shooting suspects on school grounds. "I have reports that the teacher saw two shadows running past the building, past the gym which would be rear [inaudible]." "Yeah, we got him. He's coming at me, down [inaudible]." "911 Call Dispatch Audio Reveals Police Response to Sandy Hook School Shooting," Fox News, December 14, 2012,
http://www.youtube.com/watch?v=16AfZXH33eQ
[Night]
Police recover long gun from automobile in Sandy Hook parking lot. "
Police Find Long Gun in Trunk of Car in Sandy Hook Parking Lot, Newtown Connecticut
," NBC News, December 14, 2012.
CBS correspondent notes how police have a second shooting suspect in custody who they are interrogating. "Well, they have an individual in custody, who they're talking to. I am told they're looking into the person as possibly a second shooter. Now that changes the dynamics here a little bit which goes from - if in fact this turns out to be confirmed - it goes from a lone gunman scenario where somebody has this argument with society and wants to take revenge with the most defenseless people in society to a team of individuals who've gotten together and conspired to do something like this." "
School Shooting: Possible Second Gunman in Custody
," CBS News Online, December 14, 2012.
The Associated Press interviews an unidentified Sandy Hook Elementary student who describes seeing a shooting suspect prone on the ground in the school's parking lot. Unidentified student: "And then the police like were knocking on the door, and they're like, 'We're evacuating people! We're evacuating people!' So we ran out. There's police about at every door. They're leading us, 'Down this way. Down this way. Quick! Quick! Come on!' Then we ran down to the firehouse. There's a man pinned down to the ground with handcuffs on. And we thought that was the victim [sic]. We really didn't get a good glance at him because there was a car blocking it. Plus we were running really quick." "
Raw: Student Describes Scene at School Shooting
," Associated Press, December 14, 2012.
December 15
7:05AM
State Police Lt. J. Paul Advance on ABC's Good Morning America with George Stephanopoulos.
Vance: This is something that's going to take a significant amount of time. From the onset we've had teams looking into the background of [Adam Lanza], peeling back the layers of the onion, so to speak. We have many, many questions that we need to ask - that we need to explore.
Stephanopoulos: Three guns found on site?
Vance: We haven't discussed that as of yet, but, uh, in excess of three guns.
Stephanopoulos: More than three guns. And we know also that the guns match those of his mother may have had. Have you been able to put that together yet?"
Vance: We're - we're - I don't have that information specifically -
Stephanopoulos: Do you know if they were obtained legally?
Vance: Again, that's something we would also have to explore during the investigation.
ABC News, "
Tragedy at Sandy Hook Elementary School
," Good Morning America, December 15, 2012.
8:40AM
Sandy Hook resident Gene Rosen comes forth with story that he encountered six first grade children from Sandy Hook Elementary in his front lawn while feeding his cats. "I thought they were practicing for a play or Cub Scouts, and I went and approached them and it became clear that they were so distressed," Rosen told CBS News. "And I took them into my house, and they were crying and talking, and I got them into my house, and they were crying and talking [sic], and I got them some stuffed animals." "
Neighbor Found Terrified Children on Front Lawn after School Massacre
," CBS New York, December 15, 2012.
3:45PM
MSNBC: "Connecticut Chief Medical Examiner H. Wayne Carver provides an update to the media after he and his team examined the victims' bodies at Sandy Hook Elementary School in Newtown following Friday's shootings." In this exchange Carver and State Police drastically change the story on what weapons were used in the shooting, contending that the Bushmaster 223 was the sole weapon Lanza wielded. Carver exhibits an amazing degree of deferral to law enforcement and overall lack of knowledge about the postmortem operation he has just presided over. For example, a reporter asks, "Were [the students] sitting at their desks or were they running away when this happened?" Carver responds, "I'll let the guys who - the scene guys talk - address that issue. I, uh, obviously I was at the scene. Obviously I'm very experienced in that. But there are people who are, uh, the number one professionals in that. I'll let them - let that [voice trails off]." Shortly thereafter another reporter asks, "How many boys and how many girls [were killed]?" Carver shakes his head slowly, "I don't know." "
Medical Examiner: Rifle Primary Weapon Used in Shootings
," MSNBC, December 15, 2012.
4:32PM
List of Sandy Hook Elementary victims is released. "
Police Release Names of Newtown School Shooting Victims
," Hartford Courant, December 15, 2012,.
8:55PM
Federal authorities confirm there is no record of Adam Lanza using local Newtown shooting range. Michael Isikoff and Hannah Rappleye, "
Mom of Suspected Shooter-First to Die - Was Avid Gun Enthusiast, Friend Says
," NBC News, December 15, 2012.
8:55PM
Federal officials claim Lanza took three weapons to Sandy Hook Elementary, a Glock and Sig Sauer, and a Bushmaster .223-caliber semiautomatic assault-style rifle. Authorities remain unclear on whether all guns were used in the attack. Michael Isikoff and Hannah Rappleye, "
Mom of Suspected Shooter-First to Die - Was Avid Gun Enthusiast, Friend Says
," NBC News, December 15, 2012.
9:15PM
"An official with knowledge of the investigation" informs the Associated Press that three weapons were found inside Sandy Hook Elementary on or near Adam Lanza's body - a Bushmaster .223-caliber rifle, a Glock 10mm pistol, and a Sig Sauer 9mm pistol. "Three other guns have also been recovered, but it was not clear where they were found, the official told AP. They were a Henry repeating rifle, an Enfield rifle and a shotgun." Matt Appuzo and Pete Yost, "
Connecticut Shooter Adam Lanza's Guns Were Registered to Mother Nancy Lanza: Official
," Associated Press/Huffington Post, December 15, 2012.
11:31PM
Adam Lanza's aunt Marsha Lanza describes Nancy Lanza as "meticulous" and "self-reliant," pointing out that she kept three guns in the home "for self-defense." "She would never leave the guns out," Marsha Lanza asserts. Josh Kovner and Edmund H. Mahoney, "
Adam Lanza: A 'Quiet, Odd' Loner Living on the Fringes
," Hartford Courant, December 15, 2012.
11:31PM
Law enforcement officials state the murder weapon was one of three guns owned by Nancy Lanza: a semiautomatic rifle or two semiautomatic pistols. Josh Kovner and Edmund H. Mahoney, "
Adam Lanza: A 'Quiet, Odd' Loner Living on the Fringes
," Hartford Courant, December 15, 2012.
11:31PM
Investigators believe Adam Lanza's behavior was consistent with Asperger's syndrome, a disorder within "the autism spectrum ... marked by difficulty with social interaction. Many with Asperger's are otherwise high-functioning people. There is no pre-disposition toward violence, experts said." Josh Kovner and Edmund H. Mahoney, "
Adam Lanza: A 'Quiet, Odd' Loner Living on the Fringes
," Hartford Courant, December 15, 2012.
11:44PM
Law enforcement authorities provide press with detailed information on event which becomes bedrock "official" storyline that Adam Lanza murdered 20 children and 6 adults at Sandy Hook Elementary School. After shooting his mother twice in the head while she lie in bed Lanza proceeded to Sandy Hook Elementary where he "fired a half-dozen thunderous rounds from a semiautomatic rifle to open a hole big enough to step through in one of the school's glass doors." He entered the school and shot Principal Hochsprung and school psychologist Mary Scherlach who after hearing the "sounds of gunfire and shattering glass, bolted into a corridor from a conference room across the hall from the classrooms ... The first classroom Lanza reached was teacher Kaitlin Roig's. Alarmed by the gunfire, Roig hid her students in a bathroom and closed her classroom door. Lanza passed by Roig's classroom in lieu of substitute teacher Lauren Rousseau's, shooting all 14 children who investigators believe were huddled and clutching one another in fear, in addition to Rousseau and a special education teacher who happened to be in the room. Lanza next arrived at teacher Victoria Soto's classroom, who is believed to have hidden her 6- and 7-year old students in a closet. When Lanza demanded to know where the children were, Soto tried to divert him to the other end of the school by saying that her students were in the auditorium. As six of Soto's students attempted to flee Lanza shot them, Soto and another teacher in the room. Searching for survivors police found the remaining seven of Soto's students still hiding in the closet. They told the police what had happened. The two teacher's aides who were killed were Mary Anne Murphy and Rachel Davino. It was unclear which aide was in which room when they were killed. The first officer arriving at the school found Lanza's body near the door of Soto's classroom. The intense violence lasted about 10 minutes. Lanza fired at least three, 30-round magazines with deadly accuracy. Two of the people he shot survived. All of the victims were shot multiple times. 'I did seven (autopsies) myself with three to 11 wounds apiece,' Chief State Medical Examiner Dr. H. Wayne Carver III said Saturday. 'Only two were shot at close range. I believe everybody was hit (by bullets) more than once.'" Edward H. Mahoney and Dave Altimari, "
A Methodical Massacre, Horror and Heroics
," Hartford Courant, December 15, 2012.


December 16
6:44AM
"We too are asking why. We have cooperated fully with law enforcement and will continue to do so. Like so many of you, we are saddened, but struggling to make sense of what has transpired." - Adam Lanza's father Peter Lanza said in a statement. Jonathan Dienst, "Conn. Shooting Suspect Adam Lanza's Father: '
We Too Are Asking Why
,'" NBC News, December 16, 2012.
10:30AM
On CBS's Face the Nation Bob Orr remarked that at least two computers at the Lanza residence were "smashed to smithereens." CBS correspondent and former FBI agent John Miller noted "that subpoenas have been issued for all of the shooter's email accounts and his mother's accounts, including all of the 'sent' mail and 'received' mail over a long period of time. Miller said that Lanza's mother, Nancy, had battled with the school system and eventually took her son out of the schools and home-schooled him." Christopher Keating, "
Newtown Update: CBS Says Two Computers 'Smashed to Smithereens' In Lanza Home in Newtown; Subpoenas for All Emails of Mother and Shooter
," Capitol Watch, Courantblogs, December 16, 2012, n.t. [Such programs are typically taped the preceding Friday afternoon.-JT]
12:12PM
Connecticut State Police Lt. Paul Vance states Adam Lanza possessed "an extraordinary amount of weaponry ... In addition to an assault-style rifle and at least two handguns, he also had a shotgun in reserve in the car he drove to the school." Lance claims that when Lanza's body was found he "still had 'hundreds of rounds' of ammunition in multiple magazines, after having already fired hundreds of rounds inside the school." M. Alex Johnson, "
Very Heavily Armed Gunman Shot Mother Multiple Times Before Killing 26 at Connecticut School, Police Say
," NBC News, December 16, 2012.
12:12PM
Details emerge on Adam Lanza enrolling at Western Connecticut State University in 2008 at age 16. Lanza successfully completed six courses "including website production, data modeling, Philosophy 101 and ethical theory - and compiled a solid 3.26 grade-point average." University officials claim Lanza presented no disciplinary concerns. M. Alex Johnson, "
Very Heavily Armed Gunman Shot Mother Multiple Times Before Killing 26 at Connecticut School, Police Say
," NBC News, December 16, 2012.
[Afternoon]
President Obama travels to Newtown to address grieving community and repeatedly allude to gun control legislation in an 18 minute speech. "We're not doing enough. And we will have to change. Since I've been president, this is the fourth time we have come together to comfort a grieving community torn apart by mass shootings, [the] fourth time we've hugged survivors, the fourth time we've consoled the families of victims ... Are we really prepared to say that we're powerless in the face of such carnage, that the politics are too hard? Are we prepared to say that such violence visited on our children year after year after year is somehow the price of our freedom?" Daniela Altimari, "
We Must Change, President Tells Nation
," Hartford Courant, December 16, 2012, 11:16PM EST.
4:52PM
Alex Israel was in the same class at Newtown High School with Adam Lanza, who lived a few houses down from her. "You could definitely tell he was a genius," Israel says. "He was really quiet, he kept to himself." Lanza's former bus driver regarded Lanza as "'a nice kid, very polite' like his brother." Another former classmate remarked that Lanza "was just a kid" - not a troublemaker, not antisocial, not suggesting in any way that he could erupt like this." Michael Martinez and David Ariosto, "
Adam Lanza's Family: Mom Liked Parlor Games, Guns; Dad, a Tax Exec, Remarried
," CNN.com, December 16, 2012.
8:06PM
Connecticut State Police Lieutenant J. Paul Vance tells the Huffington Post that Adam Lanza specifically used the Bushmaster .223 rifle to carry out all of the Sandy Hook murders. "Adam Lanza used a semiautomatic Bushmaster .223 rifle during his rampage through Sandy Hook Elementary School on Friday," the Huffington Post reports, "firing dozens of high-velocity rounds as he killed 20 children and six adults ... Lanza, 20, carried 'many high-capacity clips' for the lightweight military-style rifle, Lt. Paul Vance, a spokesman for the Connecticut State Police, told The Huffington Post in an email. Two handguns and a shotgun were also recovered at the scene. John Rudolf and Janet Ross, "
School Shooter Adam Lanza Used Military-Style Bushmaster Rifle
," Huffington Post, December 16, 2012.
8:06PM
Senator Dianne Feinstein announces that she intends to introduce legislation reauthorizing a federal assault weapons ban originally passed in the early 1990s during the Clinton administration that was allowed to lapse in 2004. John Rudolf and Janet Ross, "
School Shooter Adam Lanza Used Military-Style Bushmaster Rifle
," Huffington Post, December 16, 2012.
Health science and investigative writer Mike Adams observes that much like the Tucson Arizona, Aurora Colorado, and Wisconsin Sikh temple shootings, mass media are scrubbing their coverage and doctoring the storyline to obscure the fact that there were additional suspects and probable shooters at the crime scene. Mike Adams, "
Newtown School Shttp://memorygapdotorg.wordpress.com/wp-admin/post.php?post=1504&action=edithooting Already Being Changed by the Media to Eliminate Eyewitness Reports of a Second Shooter
," Natural News, December 16, 2012, n.t.
December 17
11:32AM
Connecticut State Police announce they have taken over all crimes scenes connected to the Sandy Hook Elementary School shooting for an indefinite time as their investigation proceeds. "[We have] seized the crime scenes under search warrant [and are] holding on to them indefinitely," Connecticut State Police spokesman Lt. J. Paul Vance told reporters at a morning press conference. David Lohr, "
Sandy Hook Crime Scene: Police 'Indefinitely' Seize All Sites Connected to Shooting
,"
Huffington Post
, December 17, 2012.
12:51PM
Divorce records reveal the parents of Adam Lanza had joint custody of their son and that Lanza's father paid yearly alimony totaling $240,000 in 2010, $265,000 in 2011 and $289,800 in 2012. Nancy and Peter Lanza's divorce cited irreconcilable and was made final in September 2009. The divorce decree designated Adam Lanza's primary residence with his mother in the Yogananda Street address which Peter Lanza quitclaimed to Nancy. Peter was designated as solely responsible for the cost of college for Adam and brother Ryan and for buying Adam a car. Nancy Lanza seldom discussed domestic affairs with friends. She was otherwise regarded as very open and generous. Allaine Griffith, "
After Divorce, Lanzas Had Joint Custody of Adam
," Hartford Courant, December 17, 2012.
12:51PM
A spokeswoman for the Bureau of Alcohol, Tobacco, Firearms and Explosives is uncertain whether Nancy Lanza brought her son to the range or whether he ever fired a weapon there. Allaine Griffith, "
After Divorce, Lanzas Had Joint Custody of Adam
," Hartford Courant, December 17, 2012.
1:09PM
Sandy Hook Elementary nurse Sally Cox tells ABC of her encounter with gunman on the morning of December 14 as she crouched underneath her desk. "I could see him from the knees down, 20 feet away, his boots were facing my desk," Cox said in an interview on Good Morning America. "It was seconds... and then he turned and walked out and I heard the door close." The 60-year-old staff member then heard "loud popping noises" outside the infirmary. Cox was joined by a school secretary and together they dialed 911 before hiding in a supply closet. Lauren Effron, "
Sandy Hook School Nurse Hid From Shooter, 'His Boots Were Facing My Desk
,'" ABC News, December 17, 2012.
1:15PM
Funerals for massacre victims begin in Newtown, with first being for 6 year old Sandy Hook first-grader Jack Pinto. "There are many ways to measure what was lost Friday morning at Sandy Hook," the Washington Post observes, "a school shooting that has spurred a national debate about public safety and a speech by the president. But no accounting of the damage was as searing as the one that began Monday, when parents stepped behind lecterns and spoke about the children they would miss." Eli Saslow and Steve Vogel, "
Funerals for Newtown Massacre Victims Begin
," Washington Post, December 17, 2012.
1:26PM
Two witnesses in Sandy Hook school shooting are unidentified adults. "There are two adults that were injured in the facility - in the school - and suffered gunshot wounds and are recovering," Connecticut State Police Lieutenant J. Paul Vance stated. "Our investigators will in fact speak with them when it's medically appropriate, and certainly they will shed a great deal of light on the facts and circumstances of this tragic investigation that we're undertaking." [Vance's emphasis] "
Key Witnesses in Connecticut School Shooting are Survivors
," Hartford Courant, December 17, 2012.
6:39PM
New York City Mayor Michael Bloomberg unveils "Demand a Plan" campaign, sponsored by the Mayors Against Illegal Guns bipartisan coalition that requests Congress and President Obama move immediately on gun control measures. Bloomberg calls Washington's inability to act a "stain on our nation's commitment to protect our children." Carlo Delaverson, "
NYC Mayor Launches Campaign Against Gun Violence
," NBC News, December 17, 2012.
December 18
6:00PM
Infowars reporter Rob Dew utilizes overlooked excerpts from CBS and Associated Press coverage of the massacre to explain how there were additional shooter suspects apprehended by law enforcement on the morning of December 14 that have been left unaccounted for and since dropped from public view. Rob Dew, "
Sandy Hook 2nd Shooter Coverup
," Infowars Nightly News, December 18, 2012.
December 19
1:07PM
Connecticut Medical Examiner H. Wayne Carver II says he will work with a University of Connecticut geneticist to determine what prompted Adam Lanza to act. "I'm exploring with the department of genetics what might be possible, if anything is possible [sic]," Carver says. "Is there any identifiable disease associated with this behavior?" David Owens, "
Obama Calls for New Proposals for Gun Control in Wake of Newtown Massacre
," Hartford Courant, December 19, 2012.
11:16PM
Hundreds attend wake of Sandy Hook Principal Dawn Hochsprung, including U.S. Secretary of Education Arne Duncan, US Senator Richard Blumenthal and US Senator-elect Chris Murphy. Matthew Kauffman, "
Communities Say Farewell to Four More Victims of Newtown Shootings
," Hartford Courant, December 19, 2012.
December 20
1:42PM
US Attorney General Eric Holder makes unannounced visit to Newtown to meet with Sandy Hook first responders following a meeting in Washington with Vice President Joe Biden, presumably to discuss forthcoming gun control legislation. "
Holder to Meet with First Responders in Newtown
," Frederic J. Frommer, Associated Press/Hartford Courant, December 20, 2012.
n.t.
Further analysis by alternative news media points to additional Sandy Hook shooting suspects overlooked by corporate media. Niall Bradley, "
Sandy Hook Massacre: Official Story Spins Out of Control
," Veterans Today, December 20, 2012; James F. Tracy, "
The Newtown School Tragedy: More Than One Gunman
?" Global Research, December 20, 2012.
December 26
7:20PM
Witness to shooting Becky Virgalla interviewed by Connecticut news media. [Video of interview at Hartford Courant website has since been taken down.] "
Witness to the Sandy Hook Massacre
," Hartford Courant, December 26, 2012.
December 28
Attorney Irv Pinsky asks State of Connecticut Claims Commissioner J. Paul Vance Jr. for permission to file $100 million dollar lawsuit on behalf of unnamed 6-year-old Sandy Hook student for negligence and trauma suffered after hearing screaming, cursing, and gunfire over school's intercom system. As a result, the "child has sustained emotional and psychological trauma and injury, the nature and extent of which are yet to be determined," the proposed claim asserts. Pinsky's claim also alleges "that the state Board of Education, Department of Education and Education Commissioner had failed to take appropriate steps to protect children from 'foreseeable harm.'" Mary Ellen Godin, "
Claim Seeks $100 Million for Child Survivor of Connecticut School Shooting
," Reuters, December 28, 2012.
December 23-30
Adam Lanza's body reportedly turned over by Connecticut Medical Examiner to father Peter Lanza "sometime last week." "
Father Claims Adam Lanza's Body
," Hartford Courant, December 31, 2012, 3:38PM.
December 31
3:12PM
Connecticut Attorney General says $100 million claim against state on behalf of 6 year old Sandy Hook student is "misguided," and maintains that "a public policy response by the U.S. Congress and the Connecticut state legislature would be 'more appropriate' than legal action." Edith Honan, "
Connecticut Attorney General Says Newtown Legal Claim Misguided
," Reuters/Hartford Courant, December 31, 2012.
2013
January 1
11:49AM
State Attorney General George Jepsen says lawsuit brought against state lacks a "valid basis." According to a report Jepsen said "the claims commissioner's office was not the appropriate venue for a discussion about the shooting." Amanda Falcone,
Request to Sue State for Newtown Shooting Has No Basis, Attorney General Says
," Hartford Courant, January 1, 2013.
2:29PM
New Haven attorney Irving Pinsky withdraws claim on behalf of traumatized Sandy Hook student after receiving new evidence. "If the state were liable in this instance, where would the state's liability ever end?" State Attorney General George Jepsen said. Brian Dowling and Hilda Munoz, "
Attorney Withdrawing Request to Sue State in Sandy Hook Shootings
," Hartford Courant, January 1, 2013.
January 2
9:10PM
Jean Henry, a processing technician for the Connecticut Office of the Chief Medical Examiner is placed on a paid leave pending an investigation of an incident on December 16 where she permitted her husband, an unauthorized employee, to view the body of alleged mass killer Adam Lanza. Jon Lender and Dave Altimari, "
State Worker Placed on Leave After Showing Husband Adam Lanza's Body
," Hartford Courant, January 2, 2013.
January 3
[Morning]
Sandy Hook students return to classes 7 miles south of Newtown at Chalk Hill School in Monroe Connecticut. The school was closed about two years ago and recently cleaned and painted to accommodate students. Amanda Falcone, "
Sandy Hook Students Back in Class
," Hartford Courant, 5:18PM EST, January 3, 2013.
6:18PM
Connecticut State Attorney's Office and State Police refuse to give timeline for Sandy Hook shooting investigation. "It cannot be stated too often how invaluable and necessary the work of the United States Attorney's Office, the Federal Bureau of Investigation, the United States Marshals Service, the Bureau of Alcohol, Tobacco, Firearms and Explosives and other federal agencies was and is to this investigation," State Attorney General Stephen J. Sedensky III said. Christine Dempsey, "
No Timeline for Newtown Shooting Probe
," Hartford Courant, January 3, 2013.
New York City Mayor Michael Bloomberg meets privately in his office with former Arizona Congresswoman Gabrielle Giffords, who was almost fatally shot at a constituent meeting in Tucson in January 2011. The sit-down was not listed on Bloomberg's public schedule and a Bloomberg aide refused to state what was discussed. Holly Bailey, "
Bloomberg Meets with Gabrielle Giffords on Gun Control
," Yahoo News, January 3, 2013, n.t.
January 4
3:40AM
Former Arizona Congresswoman Gabrielle Giffords visits Newtown families who lost loved ones in the Sandy Hook shooting. John Christoffersen, "Wounded ex-Rep Giffords Meets with Conn. Families," Associated Press/Yahoo News, January 5.
January 6
6:27PM
Police say Adam Lanza used a pair of earplugs during his alleged December 14 shooting spree. Investigators surmise Lanza may have developed the habit while frequenting gun ranges "or to muffle children's screams during his shooting rampage." "'It's just weird [that he popped in earplugs] given what he was about to go do,' a source said. 'It's not like he had to worry about long-term protection of his hearing because he had to know he wasn't coming back out of the building.' Police say Lanza was wearing an olive green utility vest packed with 30-round magazines for the Bushmaster .223 rifle. Lanza left a 20 round capacity shotgun in the trunk of the car he drove to the school. Authorities say each gun was "registered to his mother, Nancy Lanza, and appear to have been bought legally between 2010 and 2012 ... Police also found bullets outside the school in the parking lot, including some in at least three cars belonging to school personnel, including Rousseau's car." David Altimarti and Jon Lender, "
Sandy Hook Shooter Adam Lanza Wore Earplugs
,"
Hartford Courant
, January 6, 2013.
To be continued.