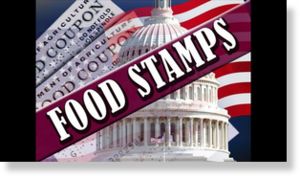 During fiscal year 2012, the U.S. government spent a record $80.4 billion on food stamps, the Supplemental Nutrition Assistance Program (SNAP), a $2.7 billion increase from FY 2011. (Fiscal year 2012 ran from Oct. 1, 2011 through Sept. 30, 2012.)
According to the
Monthly Treasury Statemen
t that summarizes the receipts and outlays of the federal government, $80,401,000,000 went towards SNAP during FY 2012, which was a $2.7 billion increase from $77,637,000,000 in FY 2011.
The SNAP program is administered by the U.S. Department of Agriculture (USDA), which also runs other food assistance programs under the auspices of the Food and Nutrition Service Agency.
In total, nearly $106 billion was spent on food assistance in 2012, with $18.3 billion that went to "Child Nutrition Programs."
Total federal spending on SNAP has increased each year during President Obama's first term in office. In FY 2009 -- when SNAP was still known as the "Food Stamp" program -- the government spent approximately $55.6 billion.
By FY 2010, SNAP spending increased to nearly $70.5 billion. Between FY 2009 and FY 2012, SNAP's budget jumped by approximately $24.8 billion.
According to an
April 2012 report
from the Congressional Budget Office, SNAP outlays increased by $42 billion between 2007 and 2011, and the number of SNAP participants increased by 70 percent.
During FY 2012, the U.S. government ran a $1.089 trillion dollar deficit, down from nearly $1.3 trillion in FY 2011.