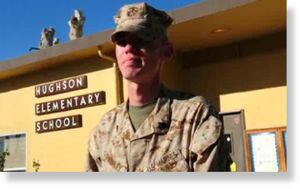 One day after Nashville Marine takes post outside children's school, a Marine and expecting father in California has done the same.
Another Marine has taken up a post outside his local elementary school.
Marine Sgt. Craig Pusley, 28, of Hughson,
told the Modesto Bee
he decided to stand outside Hughson Elementary School after reading a Facebook message urging soldiers to guard their local schools after Friday's horrific Sandy Hook school massacre.
"When I enlisted, I swore to defend this country from all enemies, foreign and domestic," he told the newspaper.
The young father, who has a 3-year-old son and another on the way with his wife, Kristina, is dressed in combat fatigues, but isn't armed.
He said he doesn't need a weapon.
"I don't have a fear in the world that if someone came here, I'd have the strength and the ability to protect (the school)." he said.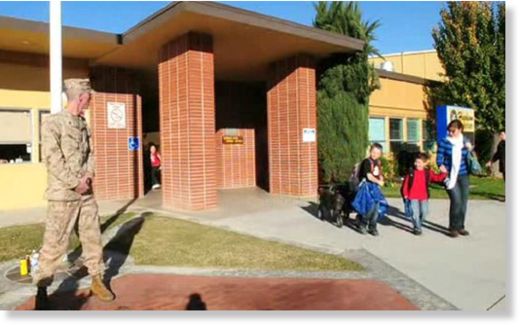 Pusley served two tours in Iraq and one in Afghanistan, where "schools are kind of against the rules," he told the
Bee
.
He wasn't going to let kids in his neighborhood live in fear of coming to school.
"I just want to have a word to this community that I stand between them and any danger," he told the
Bee
.
Hughson goes on break for the holidays on Thursday. Pusley said he was considering coming back in January.
Friday's rampage in Newtown has sparked panic in schools across the U.S.
In San Diego on Thursday, one district decided to close schools on Thursday and Friday after receiving calls from scores of parents worried about shootings, NBC San Diego reported.
News of Pusley's watch comes days after it was reported that
a Marine and father in Nashville
was taking up watch outside his chidrens' school.
Staff Sgt. Jordan Pritchard also wore fatigues and did not carry a weapon while standing outside Gower Elementary School, where his two children are students.
"I feel like this is something I had to do," he told a local TV station on Tuesday.
With News Wire Services