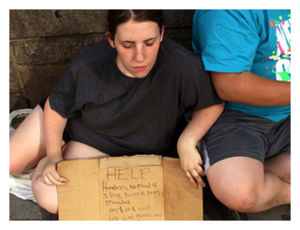 The number of homeless students in America topped one million for the first time last year as a result of the economic recession, a number that has risen 57 percent since 2007.
The US Department of Education found that of these 1,065,794 children, many lived in abandoned homes, cheap hotels, stations, church basements and hospitals. Some spent their time sleeping over at the houses of various friends whenever they could. Others fell victim to drugs and sexual abuse, in some cases trading sexual acts for food, clothing and shelter or selling illegal drugs.
The McKinney-Vento Homeless Assistance Act of 1987 requires pubic schools to register homeless children. The Department of Education report was only able to compile data from those currently enrolled in school, which indicates that there may be many more homeless children or infants living on the streets without an education.
The southern US state of Georgia has in recent years always had the highest number of homeless children. As many as 45,000 homeless kids and teens are on the street or in a temporary shelter each night in Georgia, 14,000 of which are in Atlanta.
But the states that reported the largest year-to-year increases in the June report were Kentucky at 47 percent, Utah at 47 percent, Michigan at 38 percent, West Virginia at 38 percent and Mississippi at 35 percent. In Michigan, where unemployment is above the national average, every county reported an increase in the number of homeless students.
"The severe lack of affordable housing for families has yet to be addressed, and over one million children are paying the price,"
Maria Foscarinis, executive director of the National Law Center on Homelessness & Poverty said in the report.
"Everyone has a human right to safe, decent, affordable housing. And until we make that right a reality for all Americans, the number of homeless students will continue rising."
Increases in the number of homeless students from 2010 to 2011 has hit 44 US states, reaching as far as small towns like Frederick, Md. In the months leading up to Christmas, Frederick Public Schools have been struggling to deal with the rising homeless student population, which has tripled since the 2004/2005 academic school year.
"It is pretty much what is happening around the state and around the nation,"
Zoe Carson, the school system's homeless education program coordinator told The Gazette.
"It is a phenomenon that is happening everywhere."
In Frederick County, homeless families are often referred to as the "former middle class", Carson said. Children struggling with homelessness also tend to fare worse in school, making it more difficult for them to rise out of poverty in the future.
"They know exactly what is going on with their family. When you are going home to a hotel, the last thing on your mind is homework,"
Carson said.
Frederick is neither unique with its rising number of homeless students, nor the most severe. The growth in the number of homeless students can be seen in both wealthy counties in Virginia and poor neighborhoods in Detroit. Fairfax County, Va. - one of the nation's most affluent counties - reported that 2,500 homeless students are attending public schools this year, which is 10 times the number reported 15 years ago.
The National Association for the Education of Homeless Children and Youth strives to help homeless children escape their situations, but currently lacks the funding to seriously address the problem.
"Unfortunately, funding for the program has remained flat, while the numbers of homeless children and youth have grown exponentially,"
said Barbara Duffield, policy director of the organization.
With Christmas only a week away, a record number of students will have no home to go to and will be forced to fend for themselves until the US economy improves.