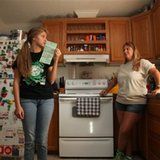 Springtown - Like many schools in Texas, "spare the rod and spoil the child" might be considered the motto at Springtown High School.
But when two teenage girls there reportedly suffered bruises after being paddled by male assistant principals, some parents complained. They weren't upset about the punishment itself, but instead that the school violated the policy requiring an educator of the same sex as the student to dole out the paddling.
So the school district has changed its policy - to expand, not abolish, corporal punishment. Board members voted Monday night to let administrators paddle students of the opposite sex, after Superintendent Michael Kelley cited a lack of women administrators to carry out spankings.
The new policy says a same-gender school official must witness the paddling, which is just one "swat," and that parents also can request one spanking per semester. In all cases, a parent must give written permission and request it in lieu of another punishment, such as suspension or detention.
"I personally think Texas is getting a black eye because of this," Kelley told The Associated Press. "People are assuming a school district can do whatever it wants because of this. That's not the case."
Texas law allows schools to use corporal punishment unless a parent or guardian prohibits it in writing. The issue of the student or educator's gender is not addressed, and there are no state standards on the minimum or maximum ages of students who can be spanked, according to the Texas Education Agency.
Cathi Watt, whose daughter was one of the two girls recently paddled, said Tuesday that she's OK with paddlings in schools "because they need it once in a while, and I got them when I was a kid." But she said the male administrator used too much force, so she does not support the new policy.
Watt said her 16-year-old daughter, Jada, deserved to be spanked after she spoke sarcastically to a teacher and an assistant principal, "but she did not deserve to be bruised."
"And what kind of message does it send these boys?" Watt said. "Is it telling them that it's OK to hit a girl?"
Texas is one of 19 states allowing schools to spank students, but 97 of the nation's 100 largest school districts have banned corporal punishment, according to the Center for Effective Discipline.
About 75 percent of the state's school districts use corporal punishment, including Springtown, a town of about 2,700 located about 30 miles northwest of Fort Worth, according to People Opposed to Paddling Students, a group based in Houston. Some of the major districts, including Fort Worth, don't paddle students.
"It is never OK to hit a child. ... Men should not be padding teenage girls, because there is a sexual connotation with teen girls but also with teen boys,"
said Jimmy Dunne, president of People Opposed to Paddling Students.
State Rep. Alma Allen, D-Houston, thinks schools should never spank children, but her bill to abolish corporal punishment in Texas schools never passed. She said the compromised version of her bill, which did become law, was that parents could opt in.
"Parents can choose whether to spank their children at home," Allen said.
"When you send a child to school, it should be a place to be motivated - not a place to be beaten."