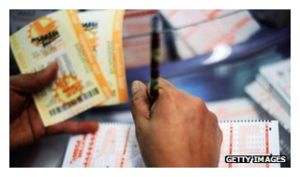 A Norwegian family has won the country's national lottery three times in six years, taking home a total of more than 3m euros ($3.9m; £2.4m).
Last week, 19-year-old Tord became the latest member of the Oksnes family to hit the jackpot, following his sister Hege Jeanette and father Leif.
The lucky numbers were drawn every time Hege was pregnant or had just given birth.
Two of the wins took place within hours of her giving birth.
Tord scooped the most at 12m kroner (1.6m euros), followed by his sister with 8.2m kroner and Leif with 4.1m.
Hege Jeanette told AFP news agency that her other three brothers who have yet to win the lottery are urging her to "have at least 10 children".
"Having children is always nice, but it doesn't happen on command," she said.
According to the Associated Press, the Norsk Tipping AS lottery company says it has seen cases where one person has won the lottery twice, but never three members of the same family winning separately.