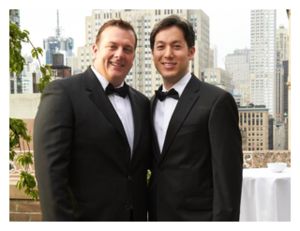 The owner of a small chain of Asian restaurants - two in Greenwich Village, of all places - canceled a same-sex wedding party after saying gay and feng shui don't go together, a lawsuit charges.
Newlyweds Barrett Greene and Thomas Eng say the owner violated their civil rights. Greene, 50, is a plumbing contractor from upstate New York, and Eng, 38, is a Manhattan-based computer professional.
They met on a cruise ship in 2004 and had a jet-setting romance before deciding to make it official with a wedding this summer.
They decided to have a rehearsal dinner at Amber Village, and also have their big day catered by the Asian fusion joint at Sixth Ave. and 10th St.
On March 23, Greene met with manager Tommy Ho to plan a rehearsal dinner for 40 and reception food for 200 guests, court papers say. Ho took a $750 deposit for the dinner, charging it to Greene's American Express card.
Exactly a week later, Ho called to say the event might have to be moved to to Amber, a sister restaurant on Christopher St. - a short stroll from the birthplace of the gay pride movement.
But that plan was short-lived, according to the suit filed in Manhattan Supreme Court.
The couple contends that later that same day, a senior manager of Amber Village - a man identified only as Mr. Fong - summoned Ho.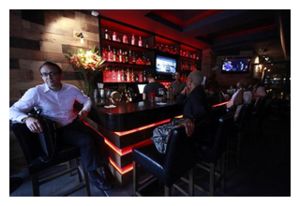 "Fong was visibly angry and told Ho that he didn't want any 'gay parties' at Amber Village," the suit charges.
"Fong instructed Ho to 'make an excuse' and tell Greene that his rehearsal dinner could not take place at Amber Village and that his wedding could not be catered by them either.
"Fong also told Ho that it's 'very bad' for Amber Village to book 'gay parties' and that big groups of 'gay partyers' are especially bad for feng shui."
Then, according to the suit, Fong fired Ho, who could not be reached for comment.
Feng shui is an ancient art that dictates where objects should be placed in a room to promote harmony and good fortune.
Restaurant owner Qi Yeng Lin did not return calls, but the manager of the Christopher St. location said he was surprised by the allegation.
"Feng shui has to do with luck and fortune. It has to do with where do you put your plants and flowers, your furniture. It has nothing to do with who are your clients," Bo Lee said.
He denied the company would discriminate against gays.
"This is the West Village. We don't turn away anyone," Lee said. "We have gay managers."
Greene and Eng are seeking unspecified damages. They note that Amber Village - which closed in June - never refunded their deposit.
Despite the early hitch, their love story had a happy ending. The couple, who registered at Tiffany's, got married in a rooftop ceremony at the Midtown Loft and Terrace on 29th St. on June 9.
Their wedding website doesn't say anything about that venue's feng shui, though it does note that the teak lattice flooring might "pose some difficulty for women in very slender heels."