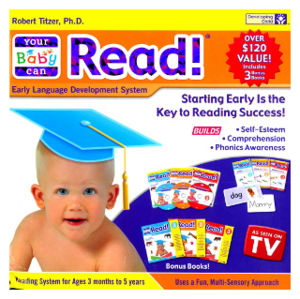 Since 2008, the makers of the Your Baby Can Read! learning system have made $185 million from parents who hoped that the product could indeed help their infant get a head start on becoming a voracious reader.
Now the company has to forfeit all that money (well, sort of) after the FTC filed false advertising charges against it, its former CEO and its creator.
In infomercials that ran for several years, the folks behind Your Baby Can Read claimed that through the use of videos, flash cards, and pop-up books, children as young as nine months old could learn how to read.
The company stated in its ads that these claims were backed up by scientific studies.
While the company and its former CEO have agreed to a settlement that would turn over what little remains of the aforementioned $185 million, the FTC says it is initiating litigation against the creator of the product, Robert Titzer, Ph.D., whose name is touted on the packaging for Your Baby Can Read.
From the FTC:
One 30-minute television infomercial featured a home video of a two-year-old girl who used the program and is purportedly reading a page from the children's book Charlotte's Web.

The girl's mother then appears, saying that when her daughter was three years old, "she read her first Harry Potter book and she fell in love with it."
But the FTC complaint [
PDF
] alleges that the defendants failed to provide competent and reliable scientific evidence that babies can learn to read using the $200 program, or that a 3-year-old could use it to learn how to read a
Harry Potter
book.