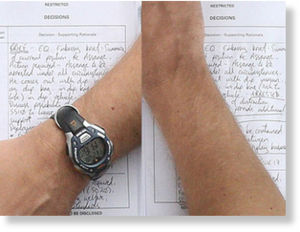 British police are to arrest Julian Assange "under any circumstances" if he attempts to flee the Ecuadorian embassy. The secret police documents revealing the order, were found in plain view outside the embassy, in the arms of London's...finest.
When Lewis Whyld of the Press Association snapped a photo of a few officers standing on the steps outside of the Knightsbridge embassy on Friday, he had no idea that Assange's fate was literally in one of the officer's hands.
The handwritten tactical brief, scrawled in barely legible scribble and partially obscured by the officer's arm, says that however Assange leaves the embassy - be it in a diplomatic car, container or bag - he should be arrested.
Brief - EQ. Embassy Brief Summary of current position Re: Assange. Action required Assange to be arrested under all circumstances. He comes out with dip immune [diplomatic immunity] as dip bag in dip bag in dip vehicle ARRESTED. Discuss possibilities of distraction SS10 to liaise...provide additional support," the visible portion of the "restricted" official document reads.
Despite diplomatic bags, containers and vehicles legally holding the same status as embassies, the document seems to entail that MET police would violate that immunity to seize Assange in the event of an escape.
The officers also appear to be prepared for any smokescreen allowing Assange to slip out of the embassy as the documents implores the officers to be vigilant for "the possibility of distraction."
The calls for "additional support" via an unknown agency called SS10 might fall on deaf ears, as Scotland Yard said they had no idea what it is.
S020, the Met's counter-terrorism protective security command, is written near the bottom right-hand corner of the document, though no context is given as to why. The idea that the counter-terrorism command could have any role to play in seizing someone wanted for questioning over allegations of rape and sexual assault, will likely set off alarm bells for Assange and his supporters.
Assange has been holed up in the Ecuadorian Embassy for over two months, after Britain's highest court gave the green light for his extradition to Sweden. Assange was granted political asylum by Ecuador last Thursday over fears he could be extradited to the US via Stockholm and possibly put to death for his role in the leaking of sensitive diplomatic cables.
Britain and Ecuador have been locked in a heated diplomatic stand-off over the Wikileaks founders fate, ever since, with British Foreign Secretary William Hague saying under no circumstances would Assange be granted safe passage out of the UK.
On Thursday, Ecuadorian Foreign Minister Ricardo Patino told RT a previously announced UK threat to temporarily strip the country's London embassy of its diplomatic immunity in order arrest Assange "remains in force."
Patino vowed that any move to "invade our embassy" would be a serious breach of international law, which would entail "serious consequences." While he hopes that a diplomatic solution can be reached with the UK, he said that Ecuador is prepared "to turn to the International Court of Justice to be able to ensure safe passage for Mr. Assange."