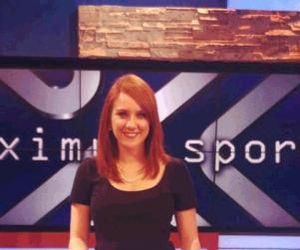 Jessica Ghawi, a blogger who wrote for Busted Coverage and an assortment of other sites, was one of 12 people killed in the Aurora, Colo. theater shooting that took place early Friday morning. The young sports personality tweeted about attending the midnight premiere of
The Dark Knight Rises
right up until her tragic final hours.
As thousands scanned over Ghawi's Twitter feed and available writings this morning, they noticed an unnerving blog entry she made last month. In that piece, Ghawi detailed her feelings and emotions in the aftermath of escaping the Toronto Mall shooting that had occurred three days earlier.
Via
her June 5th blog entry
:
I can't get this odd feeling out of my chest. This empty, almost sickening feeling won't go away. I noticed this feeling when I was in the Eaton Center in Toronto just seconds before someone opened fire in the food court. An odd feeling which led me to go outside and unknowingly out of harm's way. It's hard for me to wrap my mind around how a weird feeling saved me from being in the middle of a deadly shooting.

What started off as a trip to the mall to get sushi and shop, ended up as a day that has forever changed my life. I was on a mission to eat sushi that day, and when I'm on a mission, nothing will deter me. When I arrived at the Eaton Center mall, I walked down to the food court and spotted a sushi restaurant. Instead of walking in, sitting down and enjoying sushi, I changed my mind, which is very unlike me, and decided that a greasy burger and poutine would do the trick. I rushed through my dinner. I found out after seeing a map of the scene, that minutes later a man was standing in the same spot I just ate at and opened fire in the food court full of people. Had I had sushi, I would've been in the same place where one of the victims was found.

My receipt shows my purchase was made at 6:20 pm. After that purchase I said I felt funny. It wasn't the kind of funny you feel after spending money you know you shouldn't have spent. It was almost a panicky feeling that left my chest feeling like something was missing. A feeling that was overwhelming enough to lead me to head outside in the rain to get fresh air instead of continuing back into the food court to go shopping at SportChek. The gunshots rung out at 6:23. Had I not gone outside, I would've been in the midst of gunfire.
Ghawi grew up in San Antonio, but moved to Denver in order to pursuit a career in sports.
(Kudos
Deadspin
)