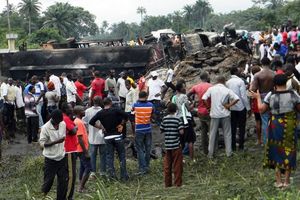 More than 100 people who went to scoop up oil from an overturned tanker in Nigeria have been burned to death after the vehicle caught fire, according to officials.
About 50 people suffered severe burns.
"Early this morning a tanker loaded with petrol fell in Okogbe and people trooped to the scene obviously to scoop the spilled fuel and suddenly there was fire resulting in casualties," Rivers State police spokesman Ben Ugwuegbulam confirmed.
Hundreds of people crowded around as soldiers and emergency workers lifted bodies into ambulances and police trucks.
The fuel tanker was a pile of smouldering ash, twisted metal and melting tyres.
Fuel leaks and oil tanker accidents in Nigeria often draw huge crowds scrambling to scoop fuel, resulting in many deaths due to accidental fires.
October 17, 1998: More than 1,000 people died at Jesse, in the south-eastern state of Delta, when a pipeline exploded.
March 20, 2000: About 50 people were killed when a fuel pipeline exploded in Abia state in south-east Nigeria.
July 10, 2000: Nearly 300 people died at Warri, Delta state, in a fire caused by a pipeline explosion.
November 30, 2000: Around 60 Nigerians died when an explosion rips through a fractured pipeline outside Lagos.
June 19, 2003: 125 people were killed by a pipeline explosion in the village of Ovim in Abia state.
September 16, 2004: Nearly 60 were killed when a pipeline explodes on the outskirts of Lagos.
May 12, 2006: Between 150 and 200 died in a pipeline inferno at a beach near Lagos.
December 26, 2006: At least 280 died in a blast at a pipeline in the Abule Egba district of northern Lagos.
March 26, 2007: At least 93 were killed when an upturned oil tanker bursts into flames in Kaduna State in northern Nigeria.
May 15, 2008: An oil pipeline blast on the outskirts of Lagos killed at least 15 according to the authorities and 100 according to the Red Cross.
October 9, 2009: Up to 80 people were burned alive in the southern state of Anambra when a fuel tanker truck exploded.
April 2, 2011: A fuel tanker overturned at an army checkpoint in the central state of Plateau, sparking an inferno in which about 50 people were killed.
The east-west road, which runs across the oil-producing region, has been scheduled for development for almost a decade and money is allocated for it in the budget each year.
Nigeria, Africa's biggest oil producer, is plagued by corruption and inefficiency. Most years only about half of budgeted programs are implemented.