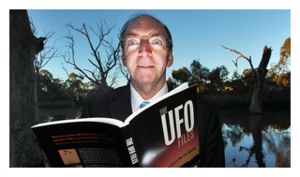 An accidental discovery sheds new light on the mysterious disappearance of a pilot in 1978, writes Miles Kemp.
Unlike a myriad other UFO sightings at the time, the claims of 20-year-old pilot Frederick Valentich could not easily be dismissed as a hoax.
Unlike others who said they had seen strange lights or craft in the sky, Valentich was mid-way through a detailed and recorded description of his sighting when he disappeared forever over Bass Strait.
"It is not an aircraft it is . . . ," an air-traffic control transcript records Valentich as saying at 7.09 and 28 seconds on the evening of 21 October 1978.
Valentich was part-way through a seven-minute conversation with Melbourne air traffic control about the craft.
At 7.10pm and 20 seconds, Valentich said: "What I am doing right now is orbiting and the thing is just orbiting on top of me also it has a green light and sort of metallic, it's all shiny (on) the outside."
A long metallic clanging sound marked the end of the transmission and the beginning of a long battle to have all records of the disappearance made public.
Now a chance discovery of the official file on the disappearance appears to have eliminated the popular theory at the time that Valentich had staged an elaborate hoax disappearance of his single-engine aircraft.
For 34 years, the Valentich family, friends, UFO theorists and the media succeeded only in having a brief summary of the investigation and a transcript of the air-traffic control conversation released. An audio recording of the conversation was released to Valentich's father so he could hear his son's last words - but only on strict instructions it go no further.
Adelaide researcher Keith Basterfield has been following the case since the disappearance in 1978, but had been told by the Government in 2004 the official file had been lost or destroyed. He "found" it when searching through an online National Archives index on an unrelated topic. The file has since been digitised and uploaded on the archive's website.
Mr Basterfield and others had known the 315-page file - the holy grail in the mystery - existed. It had been seen by one researcher on the desk of a Transport Department official in 1982, as he lobbied him for its release. Since then, many have sought it doggedly to see which of the many theories on the mystery - hoax, suicide, staged disappearance, drug-induced hallucination or actual UFO sighting - was given credence by investigators.
What is significant about the file, Mr Basterfield argues, is that for the first time it is revealed that parts of aircraft wreckage with partial serial numbers were found in Bass Strait five years after the disappearance.
Mr Basterfield says Valentich's aircraft serial numbers fell within the range of those found on the wreckage, almost eliminating the theory that the pilot staged his disappearance on the way to King Island.
"There was a lot of public speculation at the time of a hoax disappearance but there is nothing in the 315 pages that even suggests that," he says.
He says transcripts and notes of extensive interviews with those who knew or were related to Valentich, doctors and colleagues virtually eliminate the possibility of suicide.
Most significantly, investigators leave the possibility of a UFO encounter open. Mr Basterfield points out it was investigators, not Valentich or the media, who took the pilot's description of the object and labelled it an Unidentified Flying Object.
UFO theorists also will take heart in one document on the file, which shows that for the first time the head of the Transport Department took the possibility of a UFO encounter so seriously, he suggested his Minister ask the Defence Minister to launch an investigation into the possibility.
"I have read about 20,000 pages of government reports on UFO files and I have never seen such a suggestion," Mr Basterfield says.
In 2004, Mr Basterfield admits to putting the Valentich search on the backburner after a Freedom of Information request was refused because the file had been lost.
He has now discovered the file remains open, long after it had been thought closed in 1983, and the Federal Government has given a commitment to release it to him.
Mr Basterfield, an expert researcher of public documents, says he does not believe in UFOs, nor does he believe the file was covered up. Instead, he says that when asked to choose between a public service stuff-up or a conspiracy, people should opt for the stuff-up. "Put simply, many people within a department will have no idea how their filing system works and where files end up," he says.
Those interested in reading the 315-page official file still need to go out of their way to find it, however, via a seven-step process outlined by Mr Basterfield, which he perhaps charitably denies is another attempt to hide information. He says: 1. Go to
National Archives of Australia.
2. Click on search the collection 3. Click on Begin your search 4. Up comes RecordSearch 5. In the keywords box type VH-DSJ 6. Up comes this file 7. Click on the View digital copy icon.
"The only thing we can say for sure is that the plane and pilot disappeared while he was describing a UFO - which is one of those things that just makes people wonder," Mr Basterfield says.