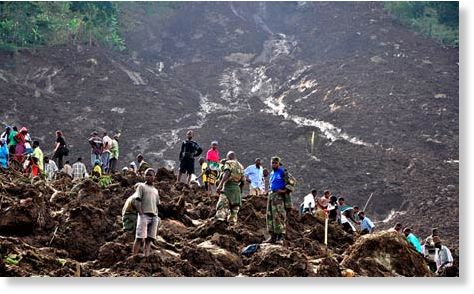 Rescue workers in Uganda have abandoned efforts to find an estimated 70 people believed to be buried in a landslide. Eighteen people have been confirmed dead after three villages were swept away on the slopes of Mount Elgon. Uganda's Red Cross told the BBC efforts were now concentrating on looking after the injured and displaced.
In March 2010, thousands were forced to flee after after a landslide killed more than 350 people in Uganda's eastern Bududa district.
'Many cracks'
Ken Kiggundu, director of disaster management for Uganda's Red Cross, told the BBC that 72 people were still missing. He added that 480 had been displaced and were now living with relatives and friends following Monday's landslide, which occurred after a number of days of heavy rain. "At 2pm, the ground trembled, followed by heavy rumbling of soil and stones which covered our home," Rachael Namwono, a villager in Bududa district, told Uganda's private
Monitor
newspaper.
Red Cross officer Michael Nataka told the Reuters news agency that there was a need to force people to move from the mountain sides as they tended not to heed the advice that the area was dangerous.
"The Mount Elgon area has had so many places with cracks, so each time there is rainfall for a while, this water just seeps into these cracks and then eventually the landslide happens," Mr Nataka said.
"There is need for some level of enforcement."
Steven Malinga, Uganda's minister for disaster relief, said moving people to safer areas was a priority, but many people refused to move as the villages near Mount Elgon had fertile ground and fewer instances of malaria.
"Eventually we have to pass a law to move people from the top and the sides of the mountain, and find alternative communities where we can relocate them," the minister told the BBC's Network Africa programme.
He urged people to move to camps lower down the mountain, where they would be given food, containers for water and utensils.
Last August, at least 24 people were killed when mud washed away homes in the Bulambuli district of eastern Uganda.