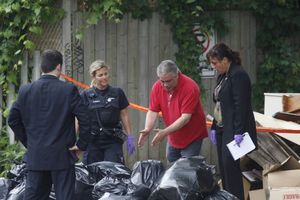 Dismembered body in Snowdon suitcase was male: police
A human foot and a hand mailed to Ottawa from Montreal in separate packages were both from the dismembered body discovered Tuesday morning in Snowdon, Montreal police said Wednesday.
They cited preliminary test results.
Shortly after the torso was discovered in Montreal, a severed human foot was delivered to the Conservative Party of Canada headquarters in Ottawa. A second package containing a human hand was intercepted at the Ottawa Postal Terminal that night. Police knew the second package was mailed from the same source and tracked it with the help of Canada Post.
"All indications are that these are from the same body" as in Snowdon, a communications agent for Montreal police told
The Gazette
on Wednesday morning, citing a preliminary report. "We are still waiting for final results."
She spoke on condition her name wouldn't be published.
The torso, of a male, was found in a suitcase Tuesday morning.
Montreal police may also be able to identify a suspect in the homicide case as early as Wednesday, Constable Simon Delorme said earlier.
An autopsy is expected to reveal how the victim was slain, and whether he was dead before being dismembered.
The autopsy will also be necessary to help make a positive identification on the corpse, Delorme said. It is to be performed in the coming days.
The torso was discovered about 10 a.m. Tuesday in a suitcase on Place Lucy, near Décarie Blvd., by Mike Nadeau, 49, a janitor of a nearby building.
The suitcase, with a handle and wheels, was among a pile of garbage and discarded furniture on a curb.
Nadeau said he believed the suitcase had been there since Saturday.
Monreal police said this is the 11th homicide reported for 2012 on Montreal Island. At the corresponding date last year, there had been 18.
Evidence found by police in garbage bags near the suitcase indicate the death was a homicide, Montreal police Constable Daniel Fortier said. He declined to provide details.
Police investigators worked on the site throughout the night.
Nadeau said he had noticed an increasingly bad smell coming from the suitcase over several days prior to Tuesday.
On Tuesday, "I noticed flies, and when I looked closer I saw maggots," Nadeau said.
"I got one of the neighbours and said, 'There's something funny, maybe we should check it.'
"We got a pair of cutters because there was a little lock on the suitcase.
"We opened it up and there was the body with no head, no arms and no legs - just the torso. So we kind of freaked out. I called the police right away.
"It was just grey. I don't know how to describe looking at someone's body with no head. You could see the shoulders."
Onlookers and neighbourhood residents were shocked.
"At night I don't like to walk my dog on that block because there are lots of young people standing around, a lot of them waiting and talking on their cellphones," said Maria Krysztoplska, a woman in her 60s. "I don't feel safe."
Pesach Sperlin, a rabbi and teacher at the nearby Chabad Montreal West School, said: "It's the worst thing that could happen to a body."
"That a person could fall so low to do that" to a body is bewildering, added Sperlin, surrounded by several of his Grade 9 students, one of whom said the torso discovery was "scary."
Several residents said there is a general feeling of insecurity on the block because of apparent drug dealing. The street is easily entered and exited via the adjacent Décarie Expressway.
In Ottawa, while the first package was generically addressed to the office of the Conservative Party of Canada just blocks from Parliament Hill, the second was not. Police have not said where the bloody hand was destined, but confirmed it was not to a residential address.
Ian Anderson, head of the Canadian Union of Postal Workers local for Ottawa, said it's possible that police used the bar codes on the package sent to the Conservative Party to locate the other package found at the Alta Vista sorting facility.
Canada Post packages are affixed with a machine-readable code used to trace its progress through the mail system. While the code would not given the sender's address, it could show which postal station it originated with. A database search on Canada Post's computers could locate other packages sent from the same station about the same time, and would provide the package's approximate location at that moment.
Source:
Montreal Gazette