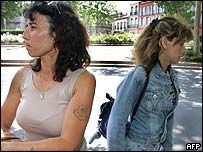 Two former prostitutes have been convicted for making up claims that French officials had taken part in sex orgies organised by a serial killer.
Christele Bourre and Florence Khelifi, known as Patricia and Fanny, were given three-year jail terms, but will appeal.
The women had claimed that politicians, judges and police had taken part in sex sessions at a chateau near Toulouse.
They said the parties were organised by Patrice Alegre, who was jailed for life in 2002 for six rapes and five murders.
Their claims led to a former mayor of Toulouse being investigated - but the case was dropped after prosecutors found no evidence.
Ms Bourre also withdrew her allegations against politician Dominique Baudis when forced to appear before a judge in 2003.
Mr Baudis, a leading anti-pornography campaigner who had fiercely denied the claims, had said he was the victim of a conspiracy by the porn industry.
Alegre backed up the prostitutes' allegations, and accused a number of officials, including Mr Baudis, of ordering some of his killings to protect themselves from blackmail.