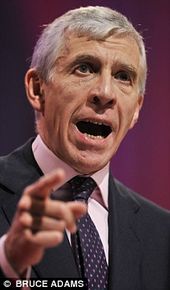 The Libyan man seized after a tip-off by MI6 then sent for torture at the hands of the Gaddafi regime challenged Tony Blair and Jack Straw yesterday to say which minister sanctioned his kidnap.
Adbel Hakim Belhadj said his rendition from Bangkok to a Gaddafi prison had led to 'years of torture'.
Asked what he would say to Mr Blair, Mr Belhadj said: 'Why did British intelligence help kidnap my wife and me?
'Who sanctioned this horrible operation? Was it you, Jack Straw or someone else? Are you ready to apologise for it?'
Mr Belhadj and his wife were sent to Libya in 2004 shortly before Mr Blair signed his 'deal in the desert' with Colonel Gaddafi.
Documents found in Tripoli after the fall of the dictator show that former
MI6 officer Sir Mark Allen boasted to Gaddafi's intelligence chief Musa Kusa that 'the intelligence was British' which led to the CIA apprehending Mr Belhadj.
Sir Mark described the tip-off as 'the least we could do for you and for Libya'.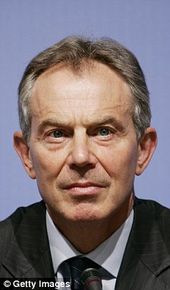 It was revealed this week that the rendition was given ministerial approval - putting former foreign secretary Mr Straw and former Prime Minister Mr Blair at risk of being questioned by Scotland Yard, who have launched a criminal investigation into the affair.
Mr Belhadj, now a senior official in the Libyan transitional government, is suing for damages and the
Mail
revealed earlier this week that MI6 wants to offer him £1million hush money to drop the case.
But last night he said he is not interested in a payoff and simply wants Mr Blair to reveal the truth about his treatment.
He said: 'I would tell him that I was languishing in Gaddafi's prisons with my wife when he came to visit Gaddafi and sat down in his tent in March 2004. I was tortured for many years. I want to ask him why did he let such things happen?'
Asked whether he thought the former prime minister was responsible, he added: 'There is no doubt that it has taken place at high levels within the government. The documents and the information we have clearly show without any doubt that the intelligence apparatus is implicated in the operation.
'As for who oversaw, who knew, who sanctioned, all those issues are the government's responsibility at that time.'
Mr Belhadj appears to have been a victim of the Blair government's desire to curry favour with the Gaddafi regime.
The Deal in the Desert saw the Libyan dictator abandon his weapons of mass destruction programme and reward BP with a multi-billion pound contract.
At the time Mr Belhadj was the leader of the Libyan Islamic Fighting Group, which was linked to terrorism but whose primary objective was to overthrow Gaddafi.
Mr Blair yesterday issued a carefully-worded declaration of ignorance
about the rendition of Mr Belhadj.
He was unable to categorically deny the charges against his government but repeatedly claimed that he had 'no recollection' of the case.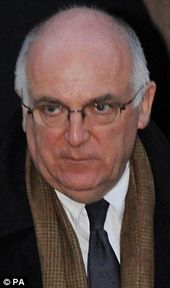 Mr Blair said: 'About the Belhadj case, I don't have any recollection of it at all.
'Rendition has been the policy of successive U.S. administrations. It remains the policy of this U.S. administration. We have always had our own position. Jack Straw made it very clear at the time and as far as I know, we absolutely adhered to that position.'
Mr Straw said last year: 'We were opposed to unlawful rendition, torture . . . and not only did we not agree with it, we were not complicit in it, nor did we turn a blind eye to it.'
But he also sought to imply that he may have been kept in the dark by spy chiefs. 'No foreign secretary can know all the details of what its intelligence agencies are doing at any one time,' he said.
Sir Richard Dearlove, the former head of MI6, has suggested politicians directed the spies. He said last year: 'It was a political decision for the Government to co-operate with Libya on Islamist terrorism.'
Mr Blair defended the relationship with Libya at the time and the role intelligence agencies play in defending Britain against external threats.
He said: 'In respect of Libya, don't be under any doubt at all - and this is quite apart from the Belhadj case, I can't comment because I simply don't know the details of it.
'But our co-operation with them in the fight against terrorism was important. Don't be under any mistake about that.
'This is about our security services. These are people who do a very difficult job, protecting our country in very difficult circumstances.
'These are people who often put their own lives on the line trying to protect our country.'