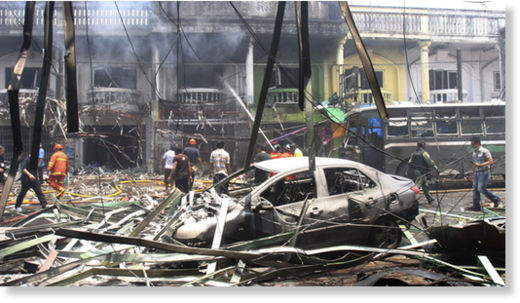 Three car-bomb attacks Saturday in southern Thailand, which killed at least 14 people and wounded hundreds of others, are propelling a long-simmering Muslim insurgency to a fresh crisis point after years of brutal attacks.
The blasts singled out weekend shoppers and vacationers in bustling commercial zones, a move security analysts said shows that Thailand's southern militants are modifying their targets by searching out higher-profile targets, and turning a low-intensity campaign into a much more dangerous conflict.
National police chief Priewpan Damapong early Sunday confirmed a third car bomb, which triggered a fire at a hotel in Hat Yai city, killing at least three people and badly damaging a McDonald's restaurant.
Security officials blamed the attacks on Muslim rebels seeking to break away from the control of the national government of this predominantly Buddhist nation.
Authorities said the first set of explosives were planted in a parked pickup truck and tore through a street of restaurants and stores in Yala city, the main commercial area in Thailand's three Muslim-majority southern provinces.
The second car bomb exploded about 20 minutes later as onlookers gathered at the initial blast site, causing the bulk of the fatalities.
Army Col. Pramote Promin told local television that Muslim insurgents are stepping up their campaign by staging large-scale attacks targeting civilians, and warned that there could be further bombings in the area. "They chose a busy commercial area, and are targeting ordinary people," Col. Pramote said.
The latest blasts coincide with a severe uptick in violence and tension in the region. In March, the Thai army said it was responsible for killing four civilians in Pattani province in January. Soldiers shot dead the victims and injured four more at a military checkpoint after a grenade exploded at a military base earlier in the day. Local Muslims were also enraged by the emergence of a video clip in which a soldier was filmed having sex with a teenage Muslim woman.
Since then the level of violence in the area has worsened. On Feb. 29, two soldiers were injured by an improvised explosive device and two supermarkets were razed. Four soldiers were injured in another IED attack on March 5, while an additional four troops were killed March 8 by a bomb as they escorted Buddhist villagers.
It is unclear what the rebels' specific goals are. Unlike other militant groups around the world, Thailand's Muslim insurgents keep a low profile and make few, if any, public pronouncements about what they view as their mission, heightening the sense of fear that pervades the region.
"At most they will distribute leaflets to talk about returning to the days when the three southern provinces were a separate Islamic caliphate," said Paul Quaglia, a director at Bangkok-based security consultancy PSA Asia. "The army doesn't know how to get a grip on the problem. They don't have many people who can speak the local language, so they just go out on patrol and then return to their encampments without really achieving anything."
Thailand annexed the southern region, a former Muslim sultanate, in the early 20th century, fostering a sense of resentment among many Muslims who complain about discrimination and being forced to learn Thai and bow to the power of Thailand's central government. Since 2004, though, the conflict has worsened, claiming the lives of more than 5,000 people. Most of the killings resulted from relatively small-scale, often drive-by, attacks on military targets or other symbols of the Thai government's authority, such as teachers and schools. Occasionally, militants have attacked commercial and tourist targets in Yala, Hat Yai and elsewhere.
The latest blasts, though, could be a dangerous announcement of intent, analysts say.
"We look at it as a natural extension of what's been going on for the past six to eight months: an inexorable escalation in the scope and callousness of attacks," Mr. Quaglia said.
In many recent operations, the rebel groups have copied methods used by insurgents in Iraq and elsewhere, although regional intelligence officials say Thailand's militants tend to operate independently of regional Islamist groups such as Indonesia-based Jemaah Islamiyah or Muslim separatists in the southern Philippines.
The attack on the Lee Gardens Plaza Hotel in Hat Yai is an especially worrying sign. "There are a lot of fast-food chains around there and it is packed with teenagers at the weekend. I'm not convinced the insurgents weren't trying to get a bigger prize. I think they were really trying to kill a lot of people," Mr. Quaglia said, a view reiterated by other analysts.
The attacks also pose a fresh challenge to the country's large tourism industry - Hat Yai is a popular destination for visitors from Malaysia and Singapore - and is also a significant headache for Prime Minister Yingluck Shinawatra, the younger sister of former populist leader Thaksin Shinawatra and who was elected the country's leader last year.
Ms. Yingluck on Sunday expressed her shock and concern for the victims of the blasts, and opposition politicians said her government needs to do more to tackle the worsening crisis in the region.
There are deep divisions between Ms. Yingluck's Puea Thai, or For Thais, Party and the army generals who ousted her brother in a military coup in 2006. Analysts say Ms. Yingluck will likely now come under pressure to throw her full weight behind the security forces as they try to defuse the worsening tensions in the south of the country.