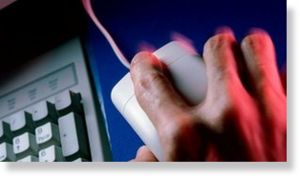 Paedophiles are hiding images of child sex abuse on websites that look like ordinary web shops, reveals a report.
The tactic is being used more and more often, said
the Internet Watch Foundation (IWF)
in its annual report.
Outwardly the sites look legitimate, but abusers can reach the images via a route that takes them to a specific section of the site, said the IWF.
Overall in 2011, the IWF said, the number of sites selling child abuse images seemed to have declined.
Hidden source
IWF chief executive Susie Hargreaves said the tactic of concealing images on otherwise legitimate looking sites posed "challenges" for those who police such material.
In many cases, she said, the IWF had been alerted about collections of images on sites by members of the public who had stumbled across them accidentally.
The IWF is the UK charity that monitors images of child sexual abuse and helps to get the content removed from British internet service providers and hosting firms.
Those who trade in images can see them on these sites because they reach the destination via a specific gateway or referrer.
Many shopping sites use this technique legitimately so repeat visitors can go straight to the department they are interested in rather than go through the home page or by clicking links in a menu.
In its annual report, the IWF said the concealment technique had been seen 600 times in the past year, more than ever, and always on sites outside the UK.
It was a useful ruse for paedophiles, it said, because it also let the sites sign up for banking and other commercial services that would be refused if they were only peddling images of abuse.
The report revealed that the number of sites trying to make money out of selling images of abuse was in decline. In the past two years the IWF had identified 998 unique sources of material. In 2011, only 440 of these were active and no new "top level" source had been identified.