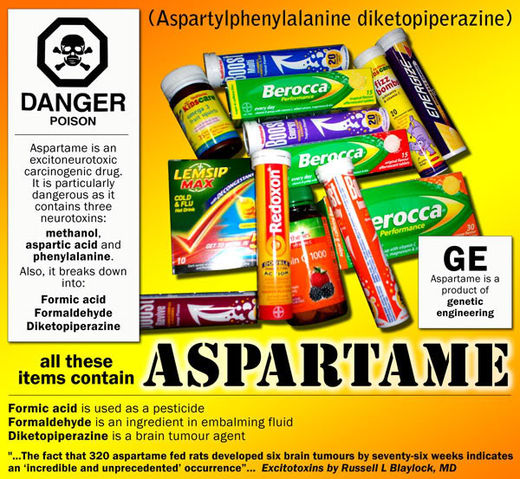 Aspartame
is one of the most used artificial sweeteners in the food supply today. It also happens to be one of the most dangerous.
Aspartame is used in thousands of products as a substitute to sugar, though consumers would actually be better off eating regular sugar.
Specifically, the toxic substance is often found in diet soft drinks and various candies. You should also be aware that aspartame is even present in a number of lesser-known conventional products as well.
Millions either knowingly or unknowingly consume aspartame on a daily basis. However, if the public was aware of the various dangers aspartame poses to individual health, they would stop - or would they? Aspartame is an addictive substance.
Most people who consume diet sodas regularly soon develop a craving for it. This is because of aspartame's addictive quality. Soon after consuming the ingredient on a normal basis, many people find themselves unable to kick the habit.
This is concerning due to the fact that aspartame has been linked to a number of diseases, can impair the immune system, and is even known to cause cancer. Aspartame has even been found to create tumors in lab rats.
One study showed
that of 48 rats experimented on, up to 67 percent of all female rats developed tumors roughly the size of golf balls or larger. This is glaringly in contrast to the perceived nature of what a 'sugar free alternative' would entail, which is generally thought to be a 'healthy' substitute to sugar.
Aspartame works as an excitotoxin, stimulating a response in cells to simulate the effects of sweetness without actually being sweet. Over exertion of these cells leads to the
various health condition
s that currently wreak havoc on the public.
Excitotoxins have been found to stimulate cancer growth and metastasis.
Aspartame, essentially, feeds cancer cells.
If this weren't enough to convince you to drop the diet soda habit, the process by which aspartame is made involves a highly toxic and volatile and
genetically engineered form of bacteria waste
- hardly something that would be considered safe by a reasonable standard.
And yet, the 'safe and reasonable' FDA has approved aspartame for use. Knowing the gamut of health risks that aspartame is responsible for, and knowing the history of FDA approved products, your health becomes your own responsibility.
Being aware of its presence in over 6,000 products and counting is essential.