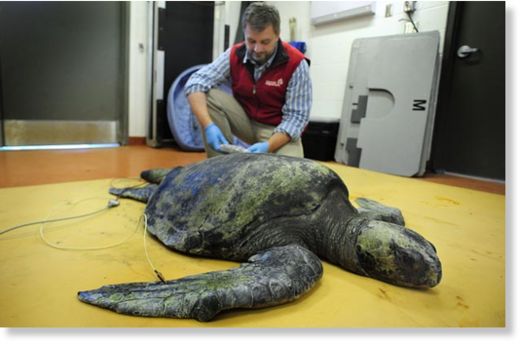 For the third time in two weeks a green sea turtle - a prehistoric species that's 150 million years old and that's now threatened - has washed up on B.C.'s shores, a rare appearance that's baffling ocean experts.
The sub-adult male was spotted by a visitor on Combers Beach in Pacific Rim National Park on Wednesday, the Vancouver Aquarium said Friday.
The giant turtle - females can weigh up to 200 kgs -- was in poor shape and wasn't expected to survive, said Dr. Dennis Thoney on Friday at the aquarium, where the turtle was transported for an examination.
"It's just too far gone," he said. "If they're on the shore, that's usually an indication there's something wrong with them."
This is is the sixth sea turtle sighting in B.C. this year: Two green, one olive ridley recently and three leatherbacks in the spring and summer.
The other green turtle and the olive ridley also both died, said Thoney. He said he doesn't know what happened to the leatherbacks because they weren't brought to the aquarium.
He found no unusual currents that would have brought the turtles north and said this year the weather is expected to be affected by a La Nina system, which brings colder, drier conditions, not the El Nino associated with warmer air and sea temperatures.
"We don't know for sure why the turtles are ending up here," he said.
He said the turtles may have been stranded when the sea temperatures dropped rapidly at two points this fall because the cold water shuts down their bodies into what's called a "cold stunned state," causing them to drift and eventually wash ashore.
In that state, their vital signs slow down and it can be difficult to determine if they're dead or alive and staff had to hook the turtle up to a monitor to determine if it had a heartbeat.
Aquarium staff on Friday were slowly warming the turtle out of water to see if the heart reacts, he said.
The other green sea turtle also washed up on Combers Beach, on Nov. 30.
The week before, on Nov. 22, the olive ridley was found along Wickaninnish Beach and was declared dead the next day.
Any sightings of live, free swimming sea turtle and cetaceans should be reported to the aquarium's cetacean sightings network at 1-866-ISAWONE.