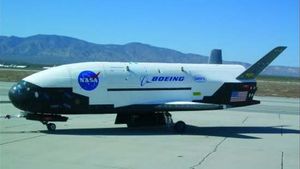 The
X-37B
was supposed to land 270 days after launch, but the Air Force is extending the space plane's mission with no exact landing date in sight
The U.S. Air Force Rapid Capabilities Office has decided to extend the trip of the secretive
X-37B
experimental robotic space plane, which is pushing its own orbital record.
The
X-37B
, also known as
Orbital Test Vehicle-2
, is a mysterious unmanned craft that was built by Boeing Co.'s Space and Intelligence Systems unit in Huntington Beach. It is a 29-foot space plane that is the second of its kind, and has been circling the Earth since its launch atop an Atlas 5 rocket from Cape Canaveral, Florida earlier this year.
The Air Force has said that the
X-37B
is used to test new technologies in space, but some
industry analysts believe that it is a test unit for a potential orbiting weapon, which could disable foreign satellites or drop bombs
as it makes its way around the Earth.
The
X-37B
was supposed to land 270 days after launch, but the Air Force is extending the space plane's mission with no exact landing date in sight.
"We initially planned for a nine-month mission, which we are roughly at now, but we will continue to extend the mission as circumstances allow," said Lt. Col Tom McIntyre, the spacecraft's systems program director. "Keeping the
X-37
in orbit will provide us with additional experimentation opportunities and allow us to extract the maximum value out of the mission.
"We are learning new things about the vehicle every day, which makes the mission a very dynamic process."