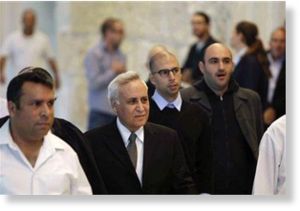 Israel's Supreme Court on Thursday upheld a conviction for rape against former president Moshe Katsav, and said it saw no reason to change the seven-year jail sentence imposed on him earlier this year.
The justices, in reading out their verdict following the appeal hearing, said they concurred with the decision of the three-judge panel at lower court that convicted Katsav last December and sentenced him in March.
Katsav was convicted for twice raping an aide when he was a cabinet minister in the late 1990s, and molesting or sexually harassing two other women who worked for him during his 2000-2007 term as president.
Katsav had consistently denied the charges, but the Tel Aviv lower court said his testimony had been "riddled with lies."
He was allowed to remain free until after the appeal ruling but will begin serving his sentence on December 7, Israeli media reports said.