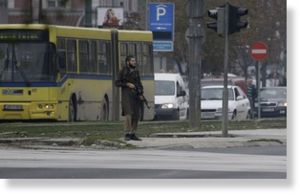 A man opened fire with an automatic weapon Friday in what authorities called a terrorist attack on the U.S. Embassy in Bosnia. A policeman and the gunman were wounded, but the embassy said none of its employees was hurt.
Sarajevo Mayor Alija Behmen said the gunman "got off a tram with a Kalashnikov and started shooting at the American Embassy." Witnesses told Bosnian television that the man urged pedestrians to move away, saying he was targeting only the embassy.
One police officer guarding the building was wounded before police surrounded the gunman. After a 30-minute standoff, the sound of a single shot echoed and AP video showed the shooter slump to the ground.
Police arrested the wounded man - who one of Bosnia's three presidents said is a foreigner - and took him away in an ambulance as pedestrians cowered behind buildings and vehicles. Hospital spokeswoman Biljana Jandric told The Associated Press the gunman had a minor wound to his leg, and would spend the night at the hospital before being released into police custody.
In Washington, State Department spokeswoman Victoria Nuland said several bullets struck the outside wall of the embassy, but that all embassy personnel were safe. She said the wounded police officer had been assigned to protect the embassy. Ambassador Patrick Moon expressed his gratitude for the swift response by the police.
"Our thoughts and prayers at this time are with those who put their lives on the line to protect the embassy," Nuland told reporters. Bakir Izetbegovic, one of Bosnia's three presidents, issued a statement condemning "the terrorist attack on the embassy of the United States."
"The United States is a proven friend of Bosnia-Herzegovina. Its government and its people supported us in the most difficult moments in our history and nobody has the right to jeopardize our relations," he said.
Zeljko Komsic, chairman of Bosnia's presidency, said the attacker is a foreigner previously known to police. He told AP that authorities have not yet determined whether the attack "was the act of an individual, or something organized."
"But whatever it was, it is not just an attack on the U.S. Embassy or the U.S., it is also an attack on Bosnia and Herzegovina," he said.
Bosnian Muslims are sensitive about their relations with the U.S. because it was the driving force behind the NATO military intervention and brokered a peace agreement that ended Bosnia's 1992-95 war.
The gunman was bearded and dressed in an outfit typical for followers of the conservative Wahhabi branch of Islam.
Bosnian TV identified the shooter as Mevlid Jasarevic, from Novi Pazar, Serbia. It said he is a Wahhabi follower, but did not cite its sources.
The Wahhabis are an extremely conservative branch of Islam which is rooted in Saudi Arabia and linked to religious militants in parts of Afghanistan and Pakistan.
Source: The Canadian Press