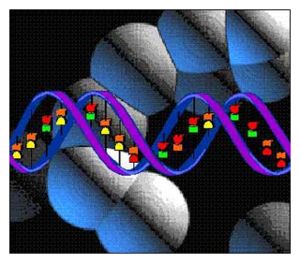 Scientists believed for years that the vast phenotypic differences between humans and chimpanzees would display significantly different genetic makeups. However, when their genomes were later sequenced, researchers were surprised to learn that the DNA sequences of human and chimpanzee genes are nearly identical.
In molecular biology, "junk" DNA is a collective label for the portions of the DNA sequence of a chromosome or a genome for which no function has yet been identified. About 98.5% of the human genome has been designated as "junk", including most sequences within introns and most intergenic DNA.
While much of this sequence is probably an evolutionary artifact that serves no present-day purpose, some may function in ways that are not currently understood. In fact, recent studies have suggested functions for certain portions of what has been called junk DNA. Moreover, the conservation of some "junk" DNA over many millions of years of evolution may imply an essential function. The "junk" label is therefore recognized as something of a misnomer, and many prefer the more neutral term "noncoding DNA."
What then is responsible for the many morphological and behavioral differences between the two species? Researchers at the
Georgia Institute of Technology
have now determined that the insertion and deletion of large pieces of DNA near genes are highly variable between humans and chimpanzees and may account for major differences between the two species.
The research team lead by Georgia Tech Professor of Biology John McDonald has verified that while the DNA sequence of genes between humans and chimpanzees is nearly identical, there are large genomic "gaps" in areas adjacent to genes that can affect the extent to which genes are "turned on" and "turned off."
The research shows that these genomic "gaps" between the two species are predominantly due to the insertion or deletion (INDEL) of viral-like sequences called retrotransposons that are known to comprise about half of the genomes of both species. The findings are reported in the most recent issue of the online, open-access journal Mobile DNA.
"These genetic gaps have primarily been caused by the activity of retroviral-like transposable element sequences," said McDonald. "Transposable elements were once considered 'junk DNA' with little or no function. Now it appears that they may be one of the major reasons why we are so different from chimpanzees."
McDonald's research team, comprised of graduate students Nalini Polavarapu, Gaurav Arora and Vinay Mittal, examined the genomic gaps in both species and determined that they are significantly correlated with differences in gene expression reported previously by researchers at the Max Plank Institute for Evolutionary Anthropology in Germany.
"Our findings are generally consistent with the notion that the morphological and behavioral differences between humans and chimpanzees are predominately due to differences in the regulation of genes rather than to differences in the sequence of the genes themselves," said McDonald.