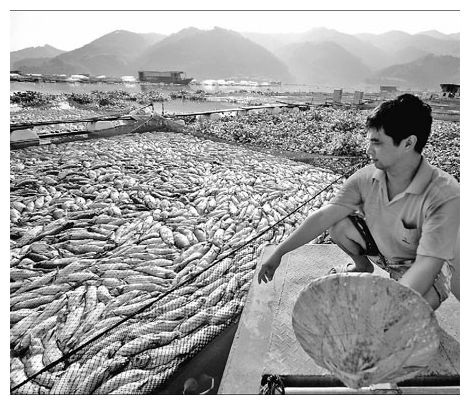 Xiamen - Fish farms along the Minjiang River in the Shuikou Township section of East China's Fujian province have been hit by a wave of fish kills in recent days, but the cause has yet to be determined, local authorities said on Sunday.
Some 9,000 tanks of fish, including about 8,000 in Shuikou town and some 1,000 in Huangtian town, were reported dead as of Saturday, according to a release from the government of Gutian county, which administers the two townships.
One tank usually holds 3,500 to 5,000 fish.
"We're calculating the number of the dead fish and economic losses," said Zeng Lisheng, a Gutian publicity officer.
The river's Shuikou section is Fujian's largest freshwater fish cultivation base, and it provides local markets with about 100,000 kilograms of fish a day during harvest seasons.
Zeng said that local fishery and environmental protection departments are investigating the case and examining the water, but the reasons for the fish die-offs are unknown.
"We're mobilizing people, ships and vehicles to scoop up the dead fish, and we will bury them deeply under nearby hills with quicklime to prevent them from harming the environment," he said.
An expert accompanying an official investigation team to the sites on Saturday said that a low level of dissolved oxygen in the water might have killed the fish, the local newspaper
Southeast Express
reported.
But Huang Zhongfa, a resident of Shuikou's Xilan village, said a lack of oxygen would not kill that many fish.
"Only hundreds of fish in a tank would die if the level of dissolved oxygen is insufficient. We also found that the fish turned white after they died. That is abnormal, and that phenomenon doesn't occur with deaths from oxygen insufficiency," he said.
"The water is black and has something like oil on the surface."
He said it was strange that the fish kills began in Huangtian town, which lies at the upper reaches of the river, and then in his lower village.
According to Huang's estimation, the number of dead fish could exceed 10 million.
"Almost all families in Xilan and the neighboring villages live by breeding fish, and most of the fish are dead," he told China Daily by phone.
Huang said he lost some 300,000 fish, worth about 3 million yuan ($470,000).
He said many villagers had borrowed money from banks to raise fish, and the fish kill had left him nothing but a debt of about 2 million yuan.
"I do not know what to do next, but I have to wait for information from the government," he said.
Another villager, Xie Quankun who lost some 600,000 yuan, said the floating dead fish are decaying in the heat and giving off a bad odor.
"Villagers dare not open their windows and some families decided to move out," he said. "Some are also sending their children to relatives elsewhere because they are afraid the decayed fish would make children sick.
"What we want now is a quick release of the water examination report and to know the cause of the case and get prompt compensation," said Xie.
Fujian residents also fear that the dead fish will pollute the river, the province's main drinking water source.
A water supply company in Fuzhou, the capital of Fujian, said no abnormality had been found at points where they take water samples from the river.
The company will conduct water quality checks around the clock to reassure local residents, said a manager surnamed Zheng.