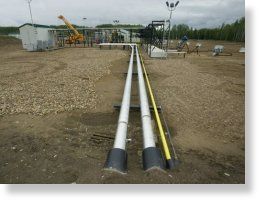 Dozens were arrested at the White House Saturday as protesters began a two-week sit-in expected to draw over 2,000 opponents of a proposed pipeline from Canada to the US Gulf Coast.
"President (Barack) Obama can stop this climate-killing disaster with the stroke of a pen," said Bill McKibben, spokesman for Tar Sands Action, the environmental group that organized the protest. Tar Sands said on its website that more than 70 people were arrested Saturday.
"This is the most important environmental test that President Obama has faced. He has to decide whether or not to grant permission for this giant pipeline," said McKibben.
A total of 2,200 people from all 50 states are expected to take part in the event, which is designed to pressure Obama to deny a permit for the $13 billion Keystone XL pipeline project due to stretch across 1,700 miles (2,700 kilometers).
Many of Saturday's protesters wore pro-Obama buttons, but professor Bob Wilson from New York state said he was "upset" with the president.
"I'm upset with the Obama administration and the federal government's inability to do anything in dealing with climate change," he said.
"Enormous carbon has been locked up in these tar sands and to release it into the atmosphere will make climate change worse."
James Speth of Vermont Law School said Obama "could have an electrifying effect across the world" by saying "no" to the pipeline.
"Europeans are far and away ahead. I hope they'll apply pressure on the US. Europe is not tough enough with us," he added just before his arrest.
Obama is currently on a 10-day vacation at Martha's Vineyard, a posh resort island on the East Coast.
The US government plans to decide by year's end whether to issue a permit for the proposed pipeline stretching from Canada to Texas.
The Keystone XL pipeline proposed by TransCanada would begin in Alberta in western Canada and pass through the US states of Montana, South Dakota, Nebraska, Kansas and Oklahoma before ending up in Texas at the Gulf of Mexico.
A number of environmental and citizen groups have launched a fight against the pipeline because exploiting the unconventional oil sands of Alberta requires energy that produces a large volume of greenhouse gasses.
Source: Agence France-Presse