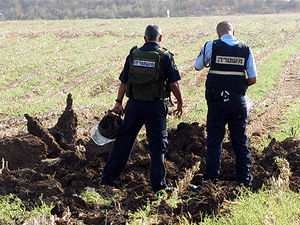 Rockets explode near Ashkelon, Ofakim and Eshkol Council after Islamic Jihad vows to avenge death of terrorist in IAF air strike. No injuries reported. IAF targets Islamic Jihad terrorist cell in Gaza, kills one
The Israel-Hamas
ceasefire
was breached again Wednesday as seven rockets hit southern communities. A rocket fired from the northern Gaza Strip exploded in an open field south of Ashkelon Wednesday evening. Minutes later, two additional rockets hit an open area near Ofakim. Shortly thereafter, two other rockets landed near the Eshkol Regional Council, which later saw two extra Qassam landings.
There were no reports of injuries or damage.
An alarm was sounded in Beersheba and other southern communities.
Air Force jets attacked a terrorist cell in Gaza belonging to the Islamic Jihad's military wing, the al-Quds Brigades, in response to the rocket fire. A member of the group's rocket unit was killed in the strike. The IDF confirmed the report and said it had hit a cell which launched two rockets at the Eshkol regional Council.
The Islamic Jihad threatened Israel with a "qualitative response" to the
assassination
of a senior Jihad militant Wednesday morning.
Spokesman Abu Ahmed said that the factions agreed to a calm but that Israel was the one not interested in a calm.
Earlier on Wednesday, the al-Quds Brigades claimed responsibility for the firing of rockets at Ofakim.
Palestinian media reported that the IDF fired shells at a terrorist cell in the eastern Gaza Strip, following the rocket attack, but noted that the squad had escaped the strike.
A music festival which was scheduled to take place in Ashkelon was canceled as a result. Shortly before the rockets were fired, residents of the Gaza vicinity communities were instructed to enter fortified spaces following a rocket alert.
Earlier on Wednesday, the Home Front Command ordered a return to routine after mortar shell fire directed at the Eshkol Regional Council resumed in the morning hours.
On Tuesday night, an Islamic Jihad operative who was involved in the attacks near Eilat last week was eliminated in an IAF air strike. The terrorist group vowed to take revenge.
Ilana Curiel, Shmulik Hadad, Elior Levy and Hanan Greenberg contributed to this report